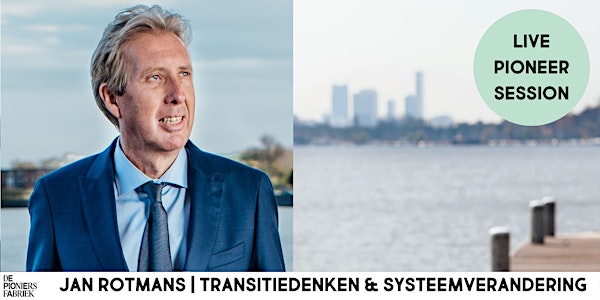 Transitiedenken en Systeemverandering
Omarm de Chaos: leren kijken naar de langere termijn vanuit een systeemperspectief
Refund Policy
Contact the organizer to request a refund.
Eventbrite's fee is nonrefundable.
About this event
Join our new Pioneers for Change - RE:IMAGINE series. This fall we will be guided by some amazing guests to discuss and rethink the question; in what world do we want to live? How does this relate to our modern worldview of seperation and infinite growth? How can we reimagine and reshape it and what do we need to know about transition theories and symtem change?
>>>>>>>>>>>>>>>>>>>>>>>>>>>>>>>>>>>>>>>>>>>>>>>>>>>>>>>>>>>>>>>>>>>
Pioniers Sessie (in Dutch) | Transitiedenken en Systeemverandering - Jan Rotmans
Welke wezenlijke en radiale veranderingen zijn nodig om te komen tot een nieuwe werkelijkheid; tot een wereld die beter in balans is, zowel economisch, sociaal als ecologisch?
Hoe verlopen transities en omwentelingen: wat moeten we ervan weten en begrijpen om meer tempo te maken met positieve veranderingen? En wat vraagt systeemverandering van ons als individu?
Nieuw boek | Omarm de Chaos
Op 2 november verscheen Jan Rotmans' nieuw boek - Omarm de Chaos. Daarin stelt hij dat transities mensenwerk zijn. Wij kunnen de wereld nog redden en uiteindelijk onszelf. De keuze is aan ons.
Verneem deze sessie uit eerste hand hoe Rotmans voortborduurt op zijn 'we leven niet in een tijdperk van verandering, maar in een verandering van tijdperk' - en welke rol wij daarin te spelen hebben.
"Als we de chaos leren omarmen, kunnen we daadwerkelijk een doorbraak realiseren en het kantelpunt bereiken, zodat transities in een versnelling komen."
Rotmans gaat tijdens dit deze online sessie dieper in op de uitdagingen waar we voorstaan (klimaatcrisis, energiecrisis, woningmarktcrisis) en heeft een hoopvolle boodschap. Hij schetst een perspectief voor Nederland en de wereld, en biedt handvatten om zelf in beweging te komen.
De toekomst van Nederland als ONTWERPOPGAVE: denk en praat je mee?
Géén standaard webinar. Wél: veel ruimte voor interactie met maatschappelijk betrokken pioniers en toekomstmakers + een uitgebreide Ask me Anything met Jan Rotmans.
Over Jan Rotmans
Prof.dr.ir. Jan Rotmans is een maatschappelijk gedreven en bevlogen wetenschapper, met ruim 300 publicaties op het gebied van klimaatverandering, global change modellering, duurzame ontwikkeling, transities en systeeminnovaties, waaronder 20 boeken.
Hij is een pionier en visionair op zijn vakgebied met een internationale reputatie. Jan Rotmans was ooit de jongste hoogleraar in Nederland en de eerste in Nederland die op klimaatverandering promoveerde. Na zijn promotieonderzoek werkte hij nog 6 jaar bij het RIVM, In september 2004 heeft hij het onderzoeksinstituut DRIFT opgericht: Dutch Research Institute For Transitions. Daarmee werd hij professor in transities & duurzaamheid aan de Erasmus Universiteit Rotterdam.
PIONEERS FOR CHANGE | RE:IMAGINE Series
This session is part of a series of Pioneers for Change interactive webinars. With (inter)national pioneering speakers such as Jeremy Lent (The Web of Meaning), Reon Brand (Co-emerging Futures & Rethinking Value), Anouk Geenen & Julieta Matos Castano (Speculative Design) and Jan Rotmans (Professor of transition studies and sustainability)
More information on: www.depioniersfabriek.nl/events
Read our Manifest and Join us as a Member: https://www.depioniersfabriek.nl/manifest