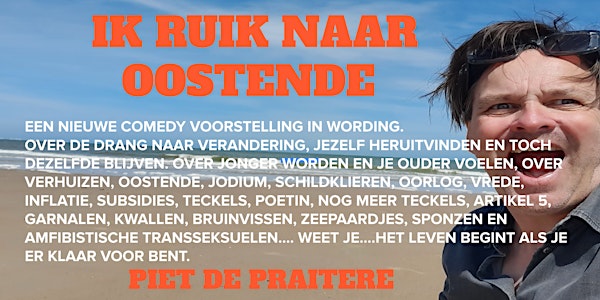 Try out Piet de Praitere: Ik ruik naar Oostende (10€ per persoon)
Een nieuwe comedy voorstelling in wording.
When and where
Location
Cyriel. Home and away 6 Nieuwe Kerkstraat 9850 Nevele Belgium
About this event
Deuren openen om 18u30, voorstelling begint om 20u.
Opgelet: deze link reserveert énkel je plekje. Reserveer 1 ticket per persoon in je gezelschap. Je betaalt ter plaatse 10€ per persoon. Plaatsen zijn beperkt.
Over Piet:
Rasechte performer. Oude zak die momenteel zijn tweede jeugd beleeft. Fabuleuze verteller met een absurde stijl vol gratie en vaardigheid. Onvoorspelbaar en gracieus.
Piet De Praitere (° 1963, Kortrijk) is een Vlaamse acteur, comedian, schrijver en televisiemaker. Na zijn theateropleiding stond hij mee aan de wieg van de Vlaamse comedy.
Zijn comedycarrière begon in 1994 toen hij samen met Gunter Lamoot en Bart Vanneste De Groote Prijs W.P. Stutjens won. Hierdoor komt hij terecht bij Studio Kafka, een humoristisch radioprogramma op Studio Brussel, waarin hij samenwerkte met onder meer Kamagurka. Uit dit programma ontstond zijn eerste typetje Etienne met het open verhemelte. Daarna volgen een tiental avondvullende soloshows.
Als acteur vertolkte Piet verschillende rollen in films en TV-series zoals Bevergem, De Twaalf, Onder vuur, Nonkels, Chantal, …..