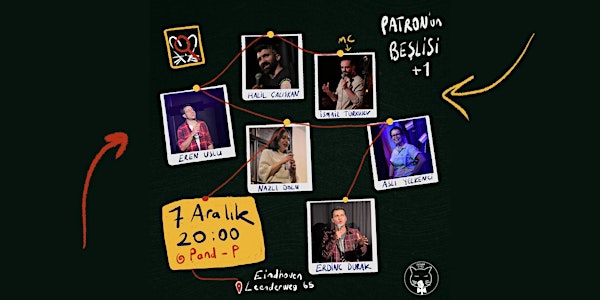 Türkçe Stand Up Komedi Gecesi - Eindhoven - Patron Stage - Pand P
Patron Stage Türkçe stand up geceleri Eindhoven'da! Patron'un en iyi çıkış yapan komedyenleri Eindhoven'da komedi severlerle buluşuyor.
When and where
Location
Pand P 65 Leenderweg 5614 HL Eindhoven Netherlands
Refund Policy
Contact the organizer to request a refund.
Eventbrite's fee is nonrefundable.
About this event
Önemli not: bu etkinlik Eindhoven'da Pand P'de gerçekleşecektir. Diğer tüm etkinliklerimizden haberdar olmak ve etkinliklerimizde sahneye çıkmak için bize @PatronStage.tr instagram hesabından ulaşabilirsiniz.
Patron'un Beşlisi sürpriz konuğu İsmail Türküsev'le birlikte Eindhoven'da Türkçe stand up gecelerine başlıyor.
Patron Stage, Hollanda'da Türkçe stand up kültürünü yaygınlaştırmak, komedi severleri sıcak ortamlarda bir araya getirip memleket hasretlerini biraz olsun dindirebilmek, sosyalleşme önündeki engelleri vurucu şakalarla birer birer kırmak amacıyla çıktığı yolda, açık mikrofonlarda ve açılışlarda pişen komedyenlerinden beşiyle Eindhoven'a çıkarma yapıyor!
19:00'da kapılar açılacak olup, gösteri kesin olarak en geç 20:00'da başlayıp, kısa bir aradan sonra 22:00'da sona erecektir.
Etkinlikte 18 yaş sınırı vardır. Etkinlik süresince video çekmek yasak olsa da fotoğraf çekmek ve paylaşmak serbesttir.
Patron Stage, adını herkese patronluk taslayan mekanın kedisinden alan, stand up kültürünü yaygınlaştırmak ve sahne deneyimi yaşamak isteyenleri destekleyerek bir komünite yaratmak amacıyla yola çıkan, amatör komedyenlerin bir araya gelerek oluşturduğu, İngilizce ve Türkçe etkinlikler düzenleyen bir komedi kulübüdür.
Eindhoven gösterilerinin düzenlendiği Pand P, performans sanatları konusunda Eindhoven'in en bilindik sahnelerinden biri olup, etkinlik öncesinde dünya mutfaklarından tatlar sunduğu restoranı ve aralarda şarap, bira ve enfes kokteyller eşliğinde keyifli vakit geçirebileceğiniz bir mekandır.
Pand P, Leenderweg 65, 5614HL, Eindhoven