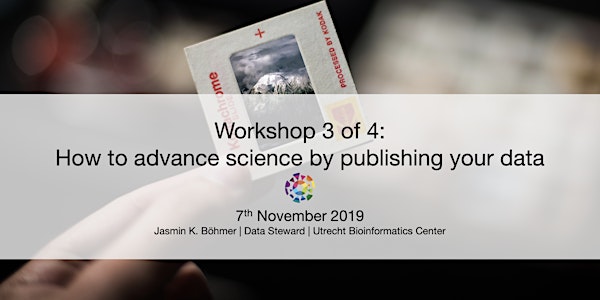 UBC RDM Workshop 3: Data Publishing and Data Archiving
When and where
Location
Universitair Medisch Centrum Utrecht 100 Heidelberglaan 3584 CX Utrecht Netherlands
Refund Policy
Contact the organiser to request a refund.
Eventbrite's fee is nonrefundable.
Description
UBC Workshop 3:
How to advance science by publishing your data in the right manner, at the right place and time.




Digital information lasts forever — or five years, whichever comes first!
~Jeff Rothenberg (1999)
Presentation:
This session will swiftly show-case the different shapes and formats data is published on the web recently, and what characteristics and benefits each approach has. Thereafter it's time to improve your research exposure with getting an ORCID-ID and DOIs for your data to enable tools such as almetric to log your attention and impact scores.
Secondly, you will learn the basics to take care before and when publishing data online to enable the best citation tracking and discoverability for your peers, your colleagues and the wider public.
Hands-On:
The list of available data repositories is long, and sometimes it hard to figure out why you should choose a specific one and not another. Since 2012 re3data.org is shaping one of the biggest - perhaps THE biggest- global registry of research data repositories. Where if not here to look for what options you would have to preserve and share your specific research data?
The second and longer interactive session will focus on the Open Science focussed data repository Zenodo by CERN. If you cannot find a suitable data archive or repository to preserve and publish your data, it will probably find a good long-term home on Zenodo! With the provided testing environment called Zenodo Sandbox we will explore how to upload data to Zenodo and what kind of metadata is necessary to create a meaningfull data-set that still has re-use value in decades.

This session is wrapped up with a discussion and Q&A section.
In Detail:
Session:
Data Archiving and Data Publishing
Presentation:
- From URL to DOI: Types of Data Publications
- Essentials of Data Publications
- Choose wisely: types of data archives

Interactive Exercises:
- re3data.org exploration
- Zenodo Sandbox hands-on
Session Plan, Thursday 07th November 2019:
15:00-16:00

Intro
Ice-Breaker + Grouping
Presentation
Break
re3data.org Exercise
Exercise Discussion
16:00-17:00
Hands-on time for
Zenodo Sandbox
17:00
Snack and Drinks
Workshop 3 of 4
This research data management (RDM) workshop is the third part of a series of four. You can find the other workshops here:
1. Data Management Planning: https://ubc-rdm-workshop1-2019.eventbrite.nl
2. Documentation Writing and ELN: https://ubc-rdm-workshop2-2019.eventbrite.nl
4. FAIR data and SPARQLing Genomics: https://ubc-rdm-workshop4-2019.eventbrite.nl

Header image credit: https://unsplash.com/@nathananderson