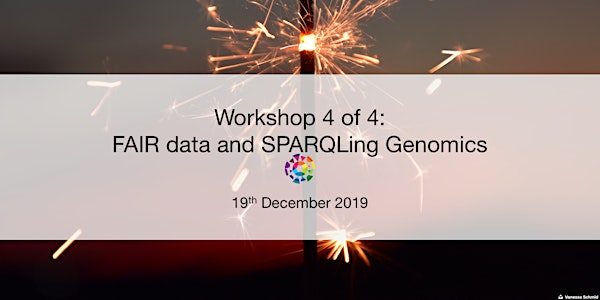 UBC RDM Workshop 4: FAIR data and SPARQLing Genomics
When and where
Date and time
Thu, 19 Dec 2019 15:00 - 17:00 CET
Location
Universitair Medisch Centrum Utrecht 100 Heidelberglaan 3584 CX Utrecht Netherlands
Refund Policy
Contact the organiser to request a refund.
Eventbrite's fee is nonrefundable.
Description
UBC Workshop 4: FAIR data and SPARQLing Genomics
How far can you go to make your data FAIR?
Presentation:
This session will shortly introduce the FAIR data principles and the efforts to realise them. Showcasing the differences between FAIRness on data-set level vs. FAIRness on data-file level, the challenges and thresholds will be discussed. Lastly, one of the options to create FAIR data - namely producing linked data - will be illustrated with the example of RDF and SPARQL.
Hands-On:
The first exercise offers to play around the ARDC FAIR data assessment tool to understand how data from different domains differ in their FAIRness.
The second and longer interactive session will provide the SPARQLing Genomics instance of the Center for Molecular Medicine to play around with SPARQL and get an idea how RDF works.

This session is wrapped up with a discussion and Q&A section.
In Detail:
Session:
FAIR data and SPARQLing Genomics
Presentation:
-Fair principles explained
- FAIR data two ways
- FAIR data applied
- Fair enough?
Interactive Exercises:
- FAIR data assessment tool exploration
- SPARQLing Genomics hands-on
Session Plan, Thursday 19th December 2019:
15:00-16:00

Intro
Ice-Breaker + Grouping
Presentation
Break
FAIR data Exercise
Exercise Discussion
16:00-17:00
Hands-on time for
SPARQLing Genomics
17:00
Snack and Drinks
Workshop 4 of 4
This research data management (RDM) workshop is the fouth part of a series of four. You can find the other workshops here:
1. Data Management Planning: https://ubc-rdm-workshop1-2019.eventbrite.nl
2. Documentation Writing and ELN: https://ubc-rdm-workshop2-2019.eventbrite.nl
3. Data Archiving and Data Publishing: https://ubc-rdm-workshop3-2019.eventbrite.nl

Header image credit: https://unsplash.com/@vansch
About the organiser
Utrecht Bioinformatics Center
The Utrecht Bioinformatics Center (UBC) performs life science research using big data analysis on DNA, genes, proteins and cells. By integrating data from various sources, we develop innovative methods that are at the foundation of solving of important problems in cancer genomics and molecular evolution. The UBC fosters and promotes the bioinformatics community at Utrecht Science Park.
Data Stewardship
The Data Stewardship portfolio of the UBC contains regular open consulting hours on research data management (RDM) for members of the Utrecht bioinformatics community.
For the first time, a research data management focussed workshop series consisting of four individual sessions will take place in fall and winter 2019.
All Data Stewardship related events and services are provided by the Data Steward of the Center for Molecular Medicine of the UMC Utrecht, Jasmin Böhmer.