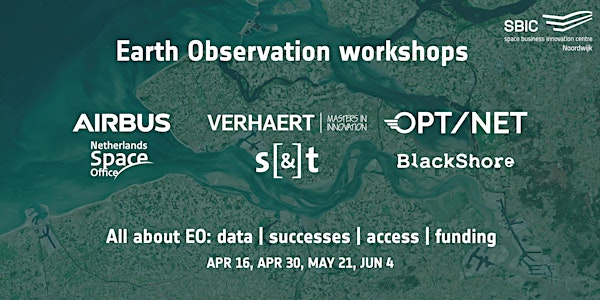 Understand EO Data and Services Workshop
Understand EO Data and Services Workshop – what they are, and how they can be accessed and used
About this event
EO Data and Services Workshop
Date: 16 April 2021
Time: 10:00 - 11:30
This workshop will focus on all the basic information you need in order to get started using Earth Observation (EO) data. Edo Loenen from S[&]T will explain you what EO data and services are, and how they can be accessed and used.
Topics that will be discussed during the workshop are:
• Types of EO imagery, both passive and active
• Important parameters and trade-offs related to satellites and EO data
• Overview of various current and near future EO satellite systems
• Where and how to get access to data
• Examples of EO data applications
Edo Loenen is Product Manager Remote Monitoring Services at Science [&] Technology. S[&]T searches for optimal and innovative ways of data use, through their Intelligent Software Applications.
Earth Observation workshops
SBIC Noordwijk, together with experts from the space industry, will host four specialized Earth Observation (EO) workshops aimed at entrepreneurs and other space enthusiasts. Every week, you'll get closer to knowing everything you need to know about earth observation.
You can join any number of workshops, but you need to register for them separately.
16 April – EO Data and Services
Get to know and understand the different types of earth observation data and services, and how they can be accessed and used
30 April – Success Stories
Learn from multiple founders how they developed and deployed Copernicus-enabled services and applications
21 May – Access to EO Data
a. Introduction to Open Satellite Data Portal (by Netherlands Space Office)
b. Introduction to Sobloo and UP42 (by Airbus)
4 June – EO Funding Programs
Discover all the possibilities to fund your earth observation business.