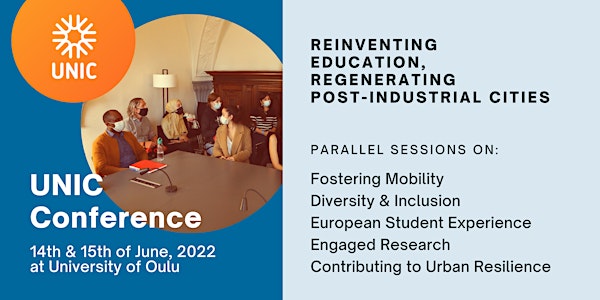 UNIC Conference  Reinventing Education, Regenerating Post-Industrial Cities
Location
University of Oulu
Erkki Koiso-Kanttilan katu
90570 Oulu
Finland
Join the UNIC Conference:  Reinventing Education, Regenerating Post-Industrial Cities.
About this event
**TICKETS ALMOST SOLD OUT**
Capacity for this event is limited - if you are trying to register and you receive the message that the event is sold out, please email unic@eur.nl to see if there are any cancellations.
The second UNIC Annual Conference takes place in person in Oulu, Finland on June 14 and 15, 2022 at the University of Oulu Linnanmaa campus.
UNIC is an alliance of eight universities and cities, which aims to develop a new model of European inter-institutional teaching and research infrastructure built upon interrogating and addressing theissues facing post-industrial cities, particularly issues of inclusion and diversity. One of our goals is to co-create our European University from the bottom-up, by involving and engaging citizens, civil society, public & city authorities and academia in joint education, researchand innovation initiatives. `
We gather each year at our Annual Conference todiscuss the latest developments and best practices of our European University.
The conference kicks-off on June 14th with an Opening by Prof. dr. Jouko Niinimäki, Rector of the University of Oulu and Prof. dr. Ed Brinksma, President of Erasmus University followed by a video address by Tine Delva, Deputy Head of Higher Education Unit of the European Commission. Then Amanda Crowfoot, Secretary General of the European Universities Association will give the plenary keynote.
The conference continues the next day, June 15th , with a morning plenary session on OuluBot as the enabler of human-centered urban development:
Over the past three years, The City of Oulu has been working on OuluBot, Finland's first digital customer service agent that combines AI and software robotics. It provides residents with extensive and multichannel information 24/7. In addition, OuluBot can independently handle many service requests and personalized information, such as reporting a lost travel card or suggesting nearby events based on location. OuluBot can correctly answer up to 80 percent of questions (even when written in Oulu's dialect) concerning topics like public transport, berths, tourism, parking, and Oulu Self-Care. The keynote will demonstrate OuluBot as well as touch on how the software can be used to collect data to support (research-based) human-centered urban development.
Following the plenary session, participants can join parallel sessions. The parallel sessions will include panel discussions on important themes: Contributing to Urban Resilience, Ensuring Social Inclusion, Fostering Innovative Mobility, and Creating a European Student Experience. You must register for the parallel sessions through the "register" link above.
Additional information on the parallel sessions can be found below.
UNIC staff, students, researchers, and city representatives are invited to attend the conference and participate in co-creating the European University of Post-Industrial Cities.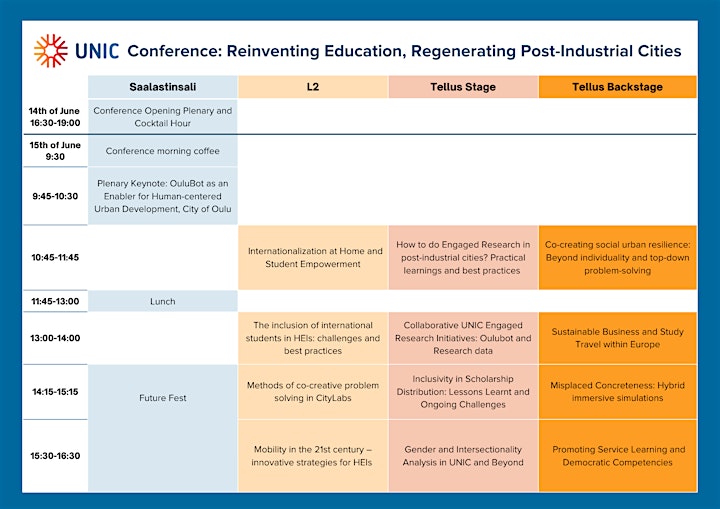 Parallel Session 1A: Internationalization at Home and Student Empowerment
Internationalization at Home (IaH) has started to have an increased importance in the higher education outlook since it gives university community the opportunity to benefit from international, intercultural, and engaging experiences without physically travelling and incurring extra costs, ranging from curriculum studies to virtual exchange/mobility and different campus wide efforts. Within this frame, virtual learning opportunities, curricular, co-curricular and extra-curricular, emerged as one of the most popular tools, gaining impetus in the post-Covid world. Another important aspect of IaH has been the importance of focusing on student empowerment by creating a holistic learning experience throughout university life at different levels with the involvement of different units.
`Chair:
Speakers:
Dr. Zuhal Zeybekoğlu, Director of Koç University Office of Learning and Teaching (KOLT)
Tuğba Güven, Global Learning Leadership for Sustainability (GLLS) Program Coordinator, Koç University
Parallel Session 1B: How to do Engaged Research in post-industrial cities? Practical learnings and best practices
Engaged research is the base for UNIC4ER's activities. But how do we actually understand engaged research? How is it done within our post-industrial environments? How do we manage to attract city stakeholders towards this methodology? This session aims to provide attendees with a learning experience on how engaged research works and how to solve the challenges it implies. The expertise and vision from our UNIC4ER researchers may offer the audience both a clear image of this innovative research methodology as well as real examples and practices on how to implement it. Furthermore, speakers will be able to offer their vision on the impact engaged research has within local communities in relation with social, economic, environmental and cultural sustainability.
Speakers:
Professor Roberto San Salvador del Valle (University of Deusto)
Dr. Martin Galvin, Head of UCC Civic and Community Engagement (University College Cork)
Dr. Sari Hirvonen-Kantola, Postdoctoral Researcher (Integrative Urban Development), Engaged Research Officer (University of Oulu)
Parallel Session 1C: Co-creating social urban resilience: Beyond individuality and top-down problem-solving.
Current complex global challenges will have tremendous consequences for our urban living environment and hence require integral solutions on a global as well as on an urban scale. In order to develop and implement these integrated solutions, different organizational structures which go beyond the (apparent) contradiction of top-down vs. bottom-up are considered essential. This session explores new forms of governance, in which collaboration between citizens, government, market, and knowledge institutions, and where roles and responsibilities are fulfilled in an innovative way and are project, process and context related could (or should) replace the current paradigm of perceiving citizens as 'consumers' or 'clients'. This quadrilateral of actors are to promote a (new type!) government that works from collectively defined needs, values and concerns – together labelled as 'urgency', sets clear and ambitious rules and enforces them, but where at the same time room is left for private actors to innovate and scale up, and for citizens to create local financial, ecological, social and cultural added value. In addition to active citizens, new forms of cooperation also require an adaptive form of governance that can move with the micro-, meso and macro-dynamic context to create a varied ecosystem in which formal institutions (including universities) can operate at different levels of scale in different capacities varying from initiators to co-creators. This session outlines what such a systemic overhaul could look like, and pays particular attention to the roles of the university within this changing playing field, and to the responsibilities a university should take for the footprint it leaves or intends to leave, through its education, research and impact ambitions.
Speakers:
Jiska Engelbert (PhD, Aberystwyth 2009) is Associate Professor in the Department of Media and Communication and the Erasmus Research Centre for Media Communication and Culture (ERMeCC). She currently works on projects at the Erasmus School of Social and Behavioural Sciences (Leiden-Delft-Erasmus Centre for BOLD Cities and Erasmus Institute for Public Knowledge). She co-leads the smart cities and communities theme within the Erasmus Vital Cities and Citizens Initiative, is Strategic Director at the Centre for BÖLD Cities, and the Academic Lead for the Master Honours Programme "Tackling Inequalities". Jiska's research focuses on the discursive construction of public issues under neoliberalism and the political economy of smart cities.
Els Leclercq is an urban designer and researcher. As a research fellow she participates in various research projects on the circular built environment at the Faculty of Architecture of TU Delft and AMS institute in Amsterdam. In the field of circularity she focuses on innovative processes to sustainable urban development. Els is particularly interested in how decentralised circular approaches can address global and local societal issues, in which active citizens engagement, datafication and digitalization (or the 'smart city'), and a just and sustainable city have a central position.
Parallel Session 2A: The Inclusion of International Students in HEIs: Challenges and Best Practices
This session addresses the challenges and good practices regarding the inclusion of international students in HEIs. We consider the different profiles and life and study experiences of the students concerned, as well as possible intersectionalities. The approaches adopted by HEIs to help students meet these challenges are different, including centralised support units and/or other types of services and actions. In addition, the initiatives undertaken may reflect the city's broader approach to diversity and inclusion issues. Building on previous local discussions on the subject, as well as additional and ongoing practice and reflection, the session aims to identify coherent and shared principles to be considered when including international students in HEIs. The presenters will discuss the experiences developed in their university/city. The session will bring together students, academic staff, support staff, researchers, citizens, who will be involved in interactive discussions.
Speakers:
Gregor Stangherlin, City of Liège, Coordinator of the Social Cohesion Plan and of the Citizens' participation initiatives, member of the working group "Liège Welcoming city".
Patricia Petit, Director of the International Relation department at University of Liège
Emma Connolly, International Strategy Officer, and founding member of Mná, UCC Womens Network. Emma has 20 years' experience in International Higher Education, in Ireland and Asia, including cross-functional support to academic units and students on collaborative joint programmes. Emma focuses on Global Reach in UCC's Connected Curriculum via projects with International Office, Career Services and academic colleagues on Internationalisation at Home, and with Cork UNESCO Learning City.
Cliona Maher is Latin American Strategy Officer at University College Cork (UCC), where she builds and promotes academic cooperation between Europe and Latin America, including collaborative research networks in community engagement, social responsibility, and promoting the Sustainable Development Goals and their relevance in the promotion of global citizenship at local, regional, and international levels.
Parallel Session 2B: Collaborative UNIC Engaged Research Initiatives: Demonstrating OuluBot in research data collection
This session introduces two innovative cases of collaborative Engaged Research initiatives - based on most recent technological advancements in research data collection and seamless university-city collaboration. OuluBot is the City of Oulu owned, Finland's first digital customer service agent that combines AI and software robotics. In this session, the first engaged research initiative pilots and demonstrates research data collection via OuluBot who has just been given the skills to contact you and any Oulu citizen. Come to test and develop OuluBot, the brand ambassador of Oulu! The second engaged research initiative reports on recent large scale research data collection via robotic calls, also provided by the City of Oulu and targeted at citizens and entrepreneurs at selected postal codes. We cannot wait to exploit all the engaged research data collection opportunities provided by OuluBot, in the collaborative UNIC Engaged Research initiatives!
Speakers:
• Dr. Sari Hirvonen-Kantola, Postdoctoral Researcher (Integrative Urban Development), Engaged Research Officer (University of Oulu)
• Professor Saila Saraniemi (Brand Marketing, University of Oulu)
• Eeva-Liisa Oikarinen, Postdoctoral Researcher (University of Oulu)
Parallel Session 2C: Sustainable Business and Study Travel within Europe
In this session, we discuss the pros and cons, and the possibilities to promote sustainable commuting or travel by students within Europe. Using the Erasmus University Rotterdam as a case study, we present the new Sustainable Business Travel policy that promotes the train instead of train for distances under 700 KM or 8 hours travel time.
Speaker:
Mariecke van der Glas, Erasmus University Rotterdam Sustainability Manager
Alicia O'Sullivan, Environmental and Sustainability Representative, University College Cork
Parallel Session 3A: Inclusivity in Scholarship Distribution: Lessons Learnt and Ongoing Challenges
Scholarships are important tools to attract students from diverse backgrounds. Many universities, international bodies, NGOs, businesses and even individuals support these efforts. Therefore, it becomes important to learn from experiences of diversity and inclusion in HE by drawing lessons from and analyzing the ongoing challenges of scholarship programs for international undergraduate and graduate students.
Speakers:
Melissa Abache, International Student Recruitment Director, Koç University. Melissa Abache is the director of the International recruitment team at Koç University. She has experience in sectors such as international higher education, sustainability, built environment, community and stakeholder engagement, infrastructure planning, local and metropolitan government.
Dr. Tijana Vukojičić Tomić, Administrative Sciences, University of Zagreb. Tijana Vukojičić Tomić is an assistant professor at the Faculty of Law, and a member of University of Zagreb Core Team for the implementation of UNIC. Her professional interest includes public administration, human rights, representation of minorities and minority rights, diversity management and local political institutions. She is a member of the secretariat of the Institute for Public Administration and a member of the Croatian Law Centre.
Parallel Session 3B: Misplaced Concreteness: Hybrid immersive simulations
"Universal Access" for all in all environments is a goal or prerequisite? Does exchanging self with others in a simulation exercise lead to a deeper understanding of design constraint? Would inclusion, diversity, equity and accessibility in the built environment be a key performance indicator of what makes UNIC unique?
Speakers:
Maroun C. Tabbal, University College Cork
Linda Horgan, University College Cork
Yvonne Pennisi, University College Cork
Dr. Jim Harrison, University College Cork
Parallel Session 3C: Methods of co-creative problem solving in CityLabs
Session participants learn about the co-creation methods used in CityLabs including theory and practical tips on implementation. There is discussion on the pros and cons of the methods as well as reflection on what types of challenges / what local context / and what target groups the methods work best with. Teams of participants will then brainstorm new methods of co-creation. Brainstorming is facilitated by CityLabs coordinators.
The methods developed are collected into a CityLabs toolbox: a deck of problem-solving methods for anyone to use for increased societal impact. The toolbox is printed into a physical deck that is shared with participants.
Speakers:
Laura Beuker, University of Liege
Ainhoa Jorquera Cascon, University of Deusto
Marian Tumanyan, University of Oulu
Ciara O'Halloran, University College Cork
Parallel Session 3D: Future Fest
In this two hour parallel session, students of the multidisciplinary design thinking course Generations' Lab will present their solutions to cases covering the themes of Green Cities Sustainability, Digital transition, Urban resilience & transformation, Health & Wellbeing, Culture, Diversity & Inclusion. In Generations' Lab heterogeneous groups tackle real-life cases provided by academics, industry, city partners or organizations with the help of design and art thinking methodologies.
Parallel Session 4A: Mobility in the 21st century – innovative strategies for HEIs
Presenters discuss ways to foster innovative settings of mobility in the UNIC alliance, as the traditional model of physical mobility has been questioned. Innovative models range from collaborative teaching activities—Virtual Exchange experiences—to the efforts of careers offices and community engagement units to create distributed placements and internship opportunities.
Speakers:
Dr Astrid Tan, Ruhr University Bochum
Dr Armida de la Garza, University College Cork
Parallel Session 4B: Future Fest (continued)
Students of the multidisciplinary design thinking course Generations' Lab will present their solutions to cases covering the themes of Green Cities Sustainability, Digital transition, Urban resilience & transformation, Health & Wellbeing, Culture, Diversity & Inclusion. In Generations' Lab heterogeneous groups tackle real-life cases provided by academics, industry, city partners or organizations with the help of design and art thinking methodologies.
Parallel Session 4C: Gender and Intersectionality Analysis in UNIC and Beyond
This session is dedicated to the Gender and Intersectionality Analysis in UNIC and Beyond. The promotion of gender equality in research and innovation, which has been a priority of the European Commission (EC), has been reinforced with the adoption of a new strategy in 2019. The creation of a more representative and inclusive higher education system has been the main objective of this strategy.
In this session, the aim is to make a self-assessment of the UNIC consortium both in terms of its current structure, research and innovation mechanisms, and gender equality plans adopted and applied in partner universities. The statistics and indicators published in the European Commissions' latest SHE Figures 2021 report will also be taken into consideration while making this analysis and discussing future prospects. Latest developments and future objectives for gender equality in Higher Education will be discussed.
Speakers:
Emma Pirilä , University of Oulu
Dolores Morondo Taramundi, University of Deusto
Mervi Heikkinen, University of Oulu
Parallel Session 4D: Promoting Service Learning and Democratic Competencies
This session will provide insight on a new Erasmus+ funded mobility scheme for students that promotes service learning and democratic competencies. University College Cork has developed this mobility scheme in partnership with Utrecht Network partners
Speakers:
Prof. Dr. Martin Galvin, University College Cork
Professor dr. Seth Pollack, University of California, is an international expert on Service Learning and mobility.
About UNIC
UNIC is an alliance of eight universities and cities, which aims to develop a new model of Europeaninter-institutional teaching and research infrastructure built upon interrogating and addressing theissues facing post-industrial cities, particularly issues of inclusion and diversity. Within UNIC, wework together to impact post-industrial transformations by developing a core methodology foruniversity-wide education and research. This includes bringing students to the city as well asbringing the challenges of post-industrial cities to our learning pedagogies through a challenge-based learning methodology.