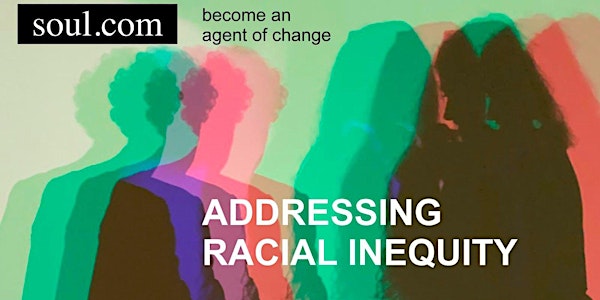 unity in diversity: addressing racial inequity [online]
unity in diversity: addressing racial inequity
Refund Policy
Contact the organiser to request a refund.
Eventbrite's fee is nonrefundable.
About this event
Discrimination and exclusion are wearing heavily on the consciousness of humanity if we aspire to make the world work for 100% of humanity. It prevents many of us to live a meaningful life while humanity as a whole remains deprived of a unique contribution.
Uprooting such practices from the fabric of society is not an easy task. Much progress has already been made, yet the road is full of difficulties and setbacks. There is no simple solution. It will require a unified and sustained effort from people from all colours and backgrounds. To address discrimination of any kind – racial, gender, age, ethnicity, sexual orientation, or religion – we have to do this together.

our approach: capacity building
We are building capacity in people to take charge of their own development in becoming a community. We do this by offering training courses that aim people within organizations to become a constructive force; to become agents of change. Our individual actions make an impact. Right here and now.
Together we are learning how to create the conditions for lasting change. Participants immediately apply the concepts into their own daily reality at work. Central to our methodology is learning in action: a systematic process of action, reflection upon action, consultation, and study.
training program
The course consists of a kick-off meeting followed by a series of learning sessions of two hours that each focus on the strengthening of a personal capacity required to address racial inequity around us:
Session 1: listening on January 27th, 2022
Session 2: building relations of trust on February 3rd, 2022
Reflection on February 17th, 2022
Session 3: learning together on February 24th, 2022
Session 4: building unity on March 3rd, 2022
Reflection on March 10th, 2022
Session 5: overcoming judgment on March 17th, 2022
Session 6: building on strengths on March 24th, 2022
Reflection on March 31st 2022
Session 7: developing a new language on April 7th, 2022
Sharing on April 14th, 2022
Session 8: inviting others on April 21st 2022
Between the sessions, we will take action and reflect upon our actions. Together we create an environment of mutual support and cooperation, so essential if we wish to make progress in this area.
outcome and results
Upon completion of the program participants will have an increased understanding of the importance of diversity and how they can in practical terms contribute to racial unity. They will be able to converse with others in a constructive manner about race and promote unity between various people.