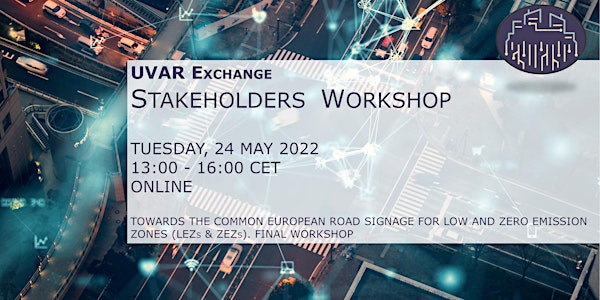 UVAR Exchange Workshop. Towards a common EU Road Signage for LEZ - ZEZ.
Final UVAR Exchange workshop on Low and Zero Emission Zones (LEZs & ZEZs). We will present our conclusions and recommendations on the topic
Date and time
Tue, 24 May 2022 04:00 - 07:00 PDT
About this event
About the event
The UVAR Exchange consortium is glad to invite you to the final Stakeholder Workshop: Towards the common European road signage for low and zero emission zones (LEZs & ZEZs) that will be held online on Tuesday, 24 May 2022, at 13:00 - 16:00 (CET).
This is the 3rd and final stakeholder workshop in a series of workshops organised by the UVAR Exchange project on LEZ and ZEZ signs where we will present our conclusions and recommendations to address the fragmentation in road signs for LEZs & ZEZs. It will build upon the outcomes from the previous two workshops with stakeholders held in March and April 2022.
Our UVAR Exchange team has used these discussions to inform the work of UNECE Group of Experts on Road Signs and Signals, where our team partner CORTE participates regularly and leads the work related to the introduction of an LEZ sign. The deliberations of UNECE Expert Group will also be used to enrich the final recommendations of the UVAR Exchange project on this topic.
The workshop will focus on the following aspects:
Presentation of conclusions and recommendations towards the common European road signage for LEZs & ZEZs.
An interactive session for stakeholders to provide their feedback on our conclusions and recommendations.
About the project
The UVAR Exchange research project funded by the European Parliament and contracted by DG MOVE addresses the informational challenges described above. The project is led by Panteia together with partners AustriaTech, CORTE, MAPtm, TRT, and Sadler Consultants.
Further information about the project is available at our website or feel free to reach out to Maria Rodrigues (m.rodrigues@panteia.nl) and Carolina Ramos (c.ramos@panteia.nl).