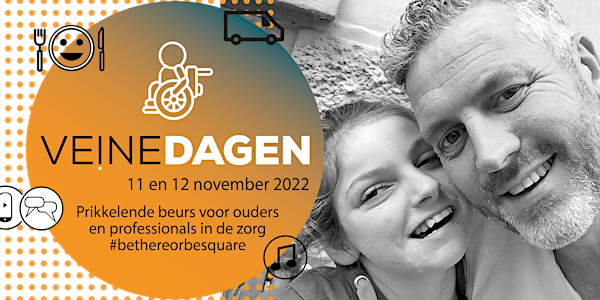 VeineDAGEN
VeineDAGEN is de prikkelende beurs voor ouders en zorgprofessionals die kinderen en jongvolwassenen met een beperking begeleiden.
When and where
Location
Evenementenhal Gorinchem 2 Franklinweg 4207 HZ Gorinchem Netherlands
About this event
Een beurs met impact, waar bezoekers geïnformeerd en geïnspireerd worden. Maar ook waar professionals en ouders, die dagelijks omgaan met mensen kinderen en jongvolwassenen met een beperking, positieve en praktische handvatten krijgen om nog beter te begeleiden en te stimuleren tot ontwikkeling. Wij denken, dat ontwikkeling en comfort gelukkig maken. En dat verdient elk kind of jongvolwassene met een beperking!
We zijn uit op 'fijne' dagen, waar we fabrikanten, professionals uit de zorg en ouders van en vooral met hun (jongvolwassen) kinderen met een beperking ontmoeten. Wat beweegt hen? Wat hebben zij nodig? Hoe kunnen we hen nog meer faciliteren, adviseren en inspireren?