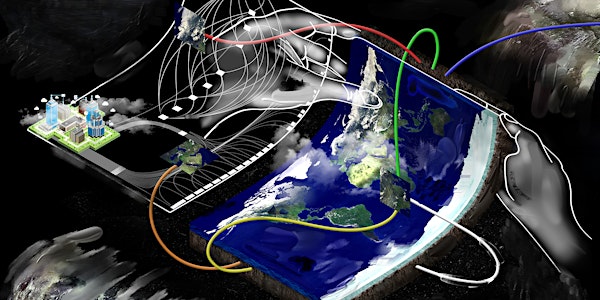 Vertical Atlas Book Launch & Exhibition Opening
Join us for the festive book launch of Vertical Atlas.
When and where
Location
Het Nieuwe Instituut 25 Museumpark 3015 CB Rotterdam Netherlands
About this event
Livestream
You can join this event online. The livestream will begin at 8pm (CET).
Vertical Atlas is a new atlas to help us navigate the digital geopolitics of the world today. The program features lectures by political scientist and writer Nanjala Nyabola and sociologist and technology and society expert Benjamin H. Bratton, and a live performance by artist Francois Knoetze.
This evening also marks the opening of the Vertical Atlas exhibition in Gallery 3 with work by Kévin Bray, Geocinema, Isaac Kariuki, Francois Knoetze, Emo de Medeiros, Andrej Škufca, Suzanne Treister, and Qiu Zhijie. More info here.
This programme is in English
Programme Overview
8 pm: Vertical Atlas book launch with lectures by Nanjala Nyabola, Benjamin H. Bratton and a performance by Francois Knoetze
9.30 pm: Opening moment with drinks and music
The exhibition is free to visit from 5 - 10.30pm.
Programme Description
The Phone Changed Everything | Lecture by Nanjala Nyabola
Ideas of innovation are often focused on the ways human action changes objects, at least until historians get involved. In this talk, political scientist and writer Nanjala Nyabola shifts our attention to the ways in which objects affect individual and social behaviour, looking back on the impact of nearly two decades of the mobile phone.
Multipolar Planetary Computation: Prospects, Potential and Peril | Lecture by Benjamin H. Bratton
The emergence of planetary scale computation and the accidental megastructure of The Stack has, in recent years, become both more established as the foundational infrastructure of global society and more fragmented into increasingly enclosed domains. From Chip Wars to GDPR, the multipolarization of geopolitics and the multipolarization of planetary computation are in fact the same thing. This is both exciting and dangerous. It simultaneously implies Galapagos effects of regional cultural technodiversity as well as artificially encapsulated information cultures. For geotechnology just as for geopolitics, multipolarity is beloved at once by forces of heterogeneity and of authoritarianism. Vertical Atlas shows that the present state of planetary computation is not a global monoculture but polyphonic and intricately reticulated. The question of planetary governance that is inevitably projected through planetary computation cannot be based on the reification of regional cultures but the organization of new forms of sensing, modeling, recursion, and composition.
Servé | Live performance by Francois Knoetze
The performance by artist Francois Knoetze takes place at Het Nieuwe Instituut, nestled between Shell's Energy and Chemicals Park, and Berckhey where on February 3, 1598, a fifty-four-foot sperm whale beached itself in the sandy shallows. Embodying a hybrid character figured from oil-surveying AI, informal e-waste recyclers, and whalers, accompanied by the booming sounds of offshore seismic blasting, the artist will serve up an alchemical canapé of subsoil surveying, extinction events, and consumer culture mythologies.
Receive updates
This event is open to the public and free to attend by registering via this Eventbrite page. If you can't attend in person and want to join the livestream, please select Online. If you like to join us in Rotterdam, please select RSVP.
Buy Vertical Atlas
Vertical Atlas will be available for purchase at NAi Booksellers, which is located on the first floor at Het Nieuwe Instituut. You can also order the book via their webshop.
About Vertical Atlas
How to navigate the rapidly changing digital geopolitics of the world today? How do we make sense of digital transformation and its many social, political, cultural, and environmental implications at different locations around the world?
Vertical Atlas brings together the insights of a diverse group of internationally renowned artists, scientists and technologists from different backgrounds and places. From an investigation into the lithium mines in the Democratic Republic of Congo to maps of the fiber-optic submarine cables in the Atlantic and the ride-hailing platforms of China.
Vertical Atlas is not a classic atlas that depicts the world in a uniform manner and it is also not a simple collection of traditional maps. It is a tool that enables comparisons, connections and contradictions between different and diverse visions, realities and worlds – through newly commissioned diagrams, interviews, essays and works of art by leading experts from around the world.
This publication is the result of a four-year collaboration between Hivos and Het Nieuwe Instituut. It is published by ArtEZ Press.
Edited by Leonardo Dellanoce, Amal Khalaf, Klaas Kuitenbrouwer, Nanjala Nyabola, Renée Roukens, Arthur Steiner, Mi You
Editorial Assistant: Hannah Adlide
Contributions by Sophia Al Maria, Heba Y. Amin, Lotte Arndt Benjamin, H. Bratton, Kévin Bray, James Bridle, Ingrid Burrington, Adriana Bustos, Ben Cerveny, Guo Cheng, Chimurenga, Cristina Cochior, Sounak Das, Data Justice Lab (Philippa Metcalfe, Fieke Jansen), Pablo DeSoto, Alex Destoop, Marjolijn Dijkman, DISNOVATION.ORG, Maarten Vanden Eynde, Cao Fei, Shuang Lu Frost, Maya, Indira Ganesh, Pélagie Gbaguidi, GCC Group, Geocinema (Asia Baz Qudyrieva, Solveig Suess), John Gerrard, Oulimata Gueye, Camille Henrot, Femke Herregraven, Yuk Hui, Sanneke Huisman, Victoria Ivanova, Vladan Joler, Isaac Kariuki, Francois, Knoetze, Srinivas Kodali, Bogna Konior, Lukáš Likavčan, Abu Bakarr Mansaray, Svitlana Matviyenko, Emo de Medeiros Metahaven, Dorine Mokha, Jean Katambayi Mukendi, Edmond Musasa, Leu N'seya, Katja Novitskova, Trevor Paglen, Alice Piva, Chen 'Stanley' Qiufan, Nii Quaynor, Elia Rediger, Tabita Rezaire, Lucas Rolim, Bassem Saad, Nanjira Sambuli, Georges Senga, Nzilani Simu, Andrej Škufca, Ksenia Tatarchenko, Suzanne Treister, Unknown Fields, Jordi Vallverdú, Richard Vijgen, Sarah Waiswa, Zhan Wang, Kedolwa Waziri, Mi You, Qiu Zhijie, Dan Zhu
Supported by Sida, Creative Industries Fund NL, New Silk Roads