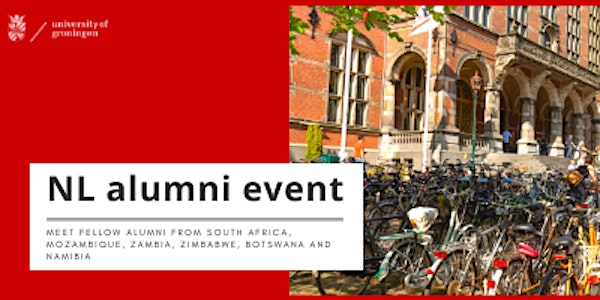 Virtual NL alumni event
Meet alumni from the Dutch Universities
By University of Groningen | Ubbo Emmius Fund
Date and time
Thu, 17 Jun 2021 09:00 - 10:30 PDT
About this event
First UG reunion in South Africa - join us online!
On behalf of the Dutch universities, Nuffic Neso South Africa, and the Consulate-General of the Kingdom of the Netherlands in South Africa, we would like to invite you to our virtual NL alumni get-together on Thursday, 17 June from 18.00 - 19.30 (SAST).
Sebastiaan Messerschmidt, the Consul-General of the Kingdom of the Netherlands in Cape Town, and Huba Boshoff, Chief Representative Officer of Nuffic Neso South Africa will start off the Alumni Event. This will be followed by a keynote speech by Tania Habimana and Desiree Brouwer, co-founders of Nonzēro Africa, about innovation and entrepreneurship in the region. After the keynote you will get together with your alma mater in a break-out session, and of course, we will raise an online toast with you at this unique online meeting, and have another round of virtual networking.
There is ample time to ask your questions and reconnect with your alma mater, fellow UG-alumni, and alumni from other Dutch universities in your region.
Besides UG alumni, also alumni from the following universities will participate:
Delft University of Technology, Erasmus University Rotterdam, IHE Delft, Maastricht University, Nyenrode, Rotterdam School of Management, Tilburg University, Utrecht University and Wageningen University & Research.
We have limited capacity in our virtual living room. So please let us know that you are joining by signing up before Tuesday 15 June. You will then receive the Zoom link on the day before the event.
We look forward to meeting you all online on 17 June!
Kind regards,
Patricia Poppendick,
University of Groningen, Project Manager International Alumni Relations
About the organiser
University of Groningen Alumni Chapters 
The University of Groningen (UG) hosts events in cities across the world. From Jakarta to Berlin to San Francisco, alumni meet each other in regions where many Groningen alumni reside. The University has tight knit groups of alumni in some areas, that organize gatherings a few times per year. Some of them have established a local board with objectives. We call them our international alumni chapters. We support international alumni chapters by offering UG representation at events. Traveling staff and board members love to interact with alumni and share UG developments. Moreover, professors and faculty members of the University provide interactive lectures and address some of the world's most pressing challenges they are working on. 
Chapters are established in New York City, Washington DC, San Francisco, Hong Kong, Singapore, Zurich, Berlin, Jakarta, Brussels and there are more to come.