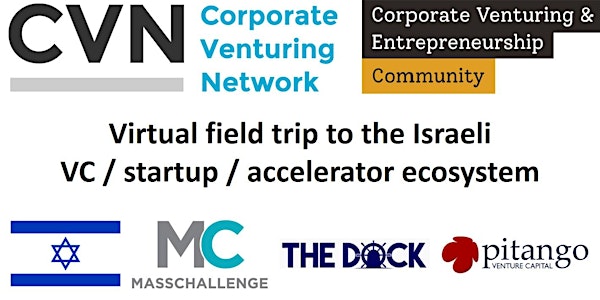 Virtuel Roadtrip to the Corporate Venturing Ecosystem of Israel
Learn more about the Israeli VC /startup/accelerator ecosystem by joining our CVN virtual field trip to Israel.
About this event
Israel is recognized as the "start-up nation" and is moving into "the scale up nation". Today there are more than 500 international Corporate R&D/innovation centres in Israel. Each year the country produces around 1.000 top-notch high-tech start-ups and in 2019 a record of 8,3 billion USD was invested in start-ups and companies in the scale up phase. Key to success have been amongst others the successful implementation of support programs and creating an innovation ecosystem attracting global investors and corporate venture and their networks to Israel.
The opening speech will be given by Naor Gilon, Israeli Ambassador to the Netherlands. Keynote presentations are from:
Chemi Peres - Co-Founder & Managing General Partner of Pitango Venture Capital
Yonit Serkin - Managing Director of Masschallenge
Nir Gartzman - Co-founder and Managing Partner of The Dock
After the presentations, we will have a panel discussion moderated by Annegien Blokpoel
For the bios of the speakers: click here

During the last half hour of the event, you will have to opportunity to have a virtual network drink with your peers, using the same immersive virtual space we used during our other Corporate Venturing & Entrepreneurship and CVN events.
Hopefully we will be able to visit Israel at a later stage in 2021 and this virtual field trip can be considered as a step forwards to know and explore cooperation with the Israeli VC / startup / accelerator ecosystem and to strengthen the relationships between the ecosystems of the Netherlands and Israel.
We will organize this event together with Annegien Blokpoel (organizer of the CVN Fieldtrip to Israel).