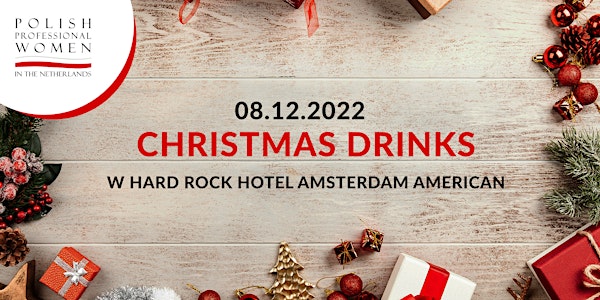 Warsztat z robienia kartek świątecznych z Anią Klimczak-Khuwam
Christmas drinks – warsztat z robienia kartek świątecznych
When and where
Location
Hard Rock Hotel Amsterdam American 97 Leidsekade 1017 PN Amsterdam Netherlands
About this event
JAK W POLISH PROFESSIONAL WOMEN SPĘDZAMY OSTATNIE WYDARZENIE W ROKU?
Z roku na rok spotykamy się w coraz większym gronie. Każda kolejna osoba wnosi część siebie w stowarzyszenie, dzieląc się swoim doświadczeniem zawodowym i życiowym.
Na naszych spotkaniach jesteśmy nie tylko buisnesswomen, ale również mamami, żonami, emigrantakami, które dzielą się swoimi przeżyciami.
8 grudnia odbędzie się wydarzenie na którym podsumujemy rok 2022 oraz spędzimy czas w świątecznej atmosferze , o którą zadba Anna Klimczak prowadząc dla nas warsztaty kartkowe. Będzie to bardzo kreatywny warsztat na którym Anna przybliży nas do świata scrapbookingu i cardmakingu.
Anna jest duszą artystyczną, więc możemy spodziewać się, że będzie kolorowo i przytulnie. Jak sama mówi: " Święta to moment by być razem. Wspólnie tworząc kreatywne rzeczy możemy siebie bliżej poznać używając wszystkich zmysłów, poprzez barwy, zapach, materiał i rozmowy. Pozwólmy sobie zrobić coś innego, coś inaczej i spojrzeć na wszystko wokół nas z innej perspektywy. Niech narodzi się w Was potencjał, którego jeszcze nie znacie!"
Spotkanie jest zamknięte tylko dla członkiń, komisarek i całego zarzadu PPW.
Jeśli jesteś Polką mieszkającą w Holandii i chciałabyś spędzić razem z rodaczkami wspaniały czas w siostrzanej atmosferze, dołącz do naszego stowarzyszenia!
Koleżanki, które już są w PPW zapraszamy do zapisów. Szykujcie piękne kreacje świąteczne!
Agenda:
18.00 –18.30 Otwarcie, recepcja
18.30 –19.00 Klub biznes
19.00 – 20.00 Warsztat z robienia kartek swiatecznych
20.00 – 21.00 Networking, drinki
Do zobaczenia!