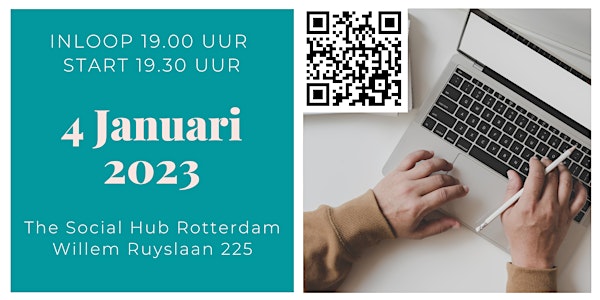 WEALTH WEDNESDAY ROTTERDAM 4 JANUARI 2023
Discover How To Optimize Your Health & Wealth
When and where
Location
The Social Hub Rotterdam 225 Willem Ruyslaan 3063 ER Rotterdam Netherlands
About this event
➟ Zou een extra inkomstenbron jou financiële ademruimte geven?
➟ Merk je hoe de wereld verandert en zou je meer vrijheid en keuze willen, maar weet je niet hoe?
➟ Stress? Weinig energie? Meer willen genieten? Vaker op vakantie?
➟ Wil je meer mensen helpen, impact creëren en iets bijdragen aan de wereld?
➟ Of zoek je juist compleet financiële vrijheid (wat dat ook voor jou betekent)?
➟ Zoek je een community van positieve mensen, die elkaar motiveren en het beste uit hun leven willen halen?
➟ Ben je benieuwd naar de mogelijkheden in brand partnerships, social selling & networking?
Kom dan WOENSDAG 4 JANUARI naar The Social Hub in Rotterdam en hoor alles over de mogelijkheden om je meest vervullende leven te creëren in samenwerking met een innovatief bedrijf dat wereldwijd al 20 jaar leidend is in de netwerkmarketing industrie, maar vooral.. wordt geïnspireerd en gemotiveerd om stappen te nemen naar je eigen beste leven, op elk vlak.
Deuren open: 19.00 uur
Aanvang presentatie: 19.30 uur
Einde presentatie / tijd voor vragen etc.: 20.30 - 21.00 uur
Gasten: GRATIS TOEGANG
Associates: €5 aan de deur (cash / tikkie)
Wij heten jou van harte welkom!
Lisanne Nicolien, Hugo Boel, Arjan Gijze, Ester Dionisio Dos Santos, Michiel Wiegman, Angelique den Ouden, Jennifer Sepers, Laura Barendrecht, Tom Barendrecht, Edna Dias en Sander de Bruijn