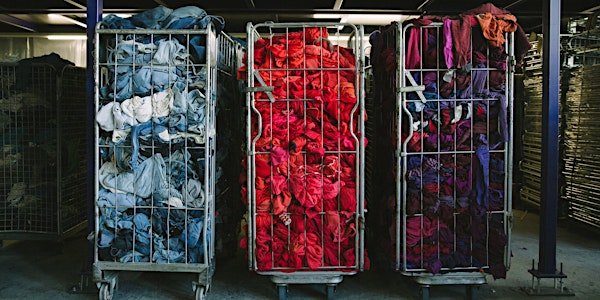 Webinar "Circular textile opportunities beyond borders"
Join the webinar on "Circular textile beyond borders"
By Netherlands Enterprise Agency
Date and time
Tue, 20 Apr 2021 03:00 - 04:30 PDT
About this event
The Netherlands Enterprise Agency and partners invites you for the webinar on "Circular textile beyond borders" on Tuesday April 20th from 12:00pm – 13:30pm CEST, where the key findings of circular textiles related studies and projects in three countries are presented: India, Turkey and Pakistan. In the second part of the webinar there is the opportunity for companies from the Netherlands and these three countries to meet-and-greet at different breakout-sessions.
Webinar details
Date: Tuesday April 20th
Time: 12:00pm – 13:30pm CEST
Location: webinar-link will be send after registration.
Programme
1st part: Presentations results circular textile studies
12:00 Welcome
12.05 Presentation 1 India – Sanne van den Dungen, Circular supply chains and agriculture
12.20 Presentation 2 Turkey – Gulin Yucel, Brika Sustainability
12.35 Presentation 3 Pakistan – Karl Borgschulze, Manager Director CSI
12.50 5 minute break
2nd part: Meet-and-great breakout sessions (limited number of participants)
12.55 Start Break-out sessions;
Breakout room 1: Mechanical recycling post-consumer and post-production textiles
Breakout room 2: Chemical recycling post-consumer and post-production textiles
Breakout room 3: Circular Sourcing – online marketplace circular pioneers
13.25 Final concluding words
13.30 Closure
Presentation content
Presentation 1 - 12.05 P.M.
Opportunities for joint circular textile production between Indian & Dutch companies
presented by Sanne van den Dungen, GVK Society
India's textile industry has enormous potential to pioneer and succeed in circular textile production. India and the Netherlands have a history of long-lasting business relations. In this study MVO Nederland, in assignment of the Embassy of the Kingdom of the Netherlands in India, identified opportunities in the value chain and supported Dutch and Indian companies to partner up and scale up circular textile initiatives and technologies.
Presentation 2 - 12.20 P.M.
Study on defining circularity of textile industry in Turkey and collaboration opportunities between Turkish and Dutch Markets Turkey
presented by Gulin Yucel, Brika Sustainability
The Netherlands is the fifth largest market within the EU for Turkey. Initiatives in the area of circular textiles will not only make consumption and production more 'responsible' for both parties but also help to strengthen Turkish textiles in EU while creating opportunities for the Dutch and Turkish trade relations. This project intends to define the potential for circularity of Turkish textile vis-a-vis collaboration opportunities in knowledge transfer and trade for more sustainable supply chains between TR and the NL.
Presentation 3 - 12.35 P.M.
Circularity feasibility study on textile recycling in Pakistan
presented by Karl Borgschulze, Manager Director CSI
Textiles is the biggest sector in Pakistan and the backbone of the national economy. As a large producer of cotton, yarn and clothing, Pakistan has the potential to become a key partner to the EU as textile recycling and manufacturing market. On behalf of the Dutch government, a case study to test the feasibility of realising a circular supply chain between a Dutch company and a Pakistani manufacturer, with particular focus on recycled coloured linen, has been conducted. The study aimed to provide solutions that are easily implementable by European SME with recycling and manufacturers in Pakistan.