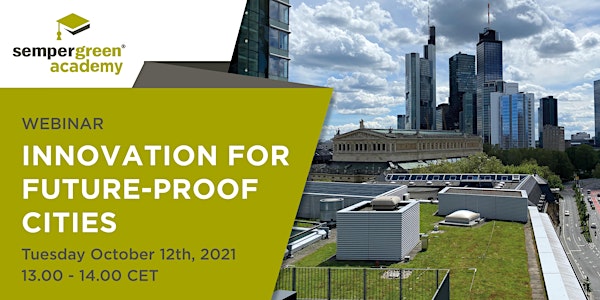 Webinar: Innovation for future-proof cities
On Tuesday, October 12th, Sempergreen hosts a live Webinar featuring effective climate adaptation strategies to counter urban flooding.
About this event
This summer, European cities have seen some of the most devastating floods of this century, leaving destroyed infrastructure and loss of life in their wake. These occurrences will only increase due to the climate crisis. Unfortunately, most of our cities are not yet prepared to withstand these disastrous effects of climate change. That is why countering measures have to be taken as soon as possible.
After registration you will receive a confirmation by e-mail. You will receive an email later with the link to the webinar.
Roosmarijn Knol, meteorologist at Infoplaza and Dr. Anna Zakrisson, Vice President of European Affairs for Green Roof Diagnostics, will highlight the causes and scientific solutions to the rising problem of flooding in European cities. One of these solutions, for example, is the collection of rainwater directly where it falls, instead of in an already overloaded sewer system.
The speakers will be assisted by Stephan Beerends, Director Sempergreen Trade. At the end of the webinar there will be time for questions and discussions.
For more information about the Sempergreen Academy or webinar please contact Rianne Slootweg: rianne.slootweg@sempergreen.com or visit our website www.sempergreen.com.