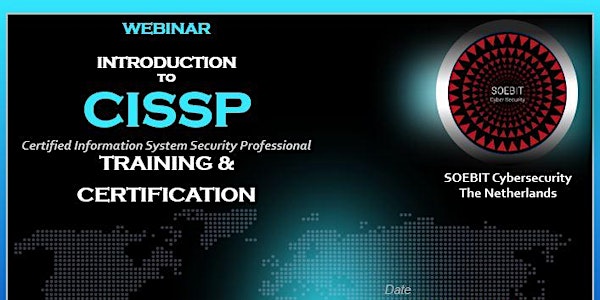 Webinar INTRODUCTION TO CISSP
The CISSP Training & certification in Information Security.
About this event
The CISSP training is for IT Security consultants/managers, security system engineers, security architects/auditors, IT Directors, IT managers, network architects and Chief Information Security Officers with 3 – 5+ years experience in the cybersecurity field !
In just 2 hour, you will explore the 8 Domains the certification entails, how and why the CISSP remains a leading certification and the key crucial elements to remember when approaching the exam.
• Domain 1 : SECURITY AND RISK MANAGEMENT
• Domain 2 : ASSET SECURITY
• Domain 3 : SECURITY ARCHITECTURE AND ENGINEERING
• Domain 4 : COMMUNICATION AND NETWORK SECURITY
• Domain 5 : IDENTITY AND ACCESS MANAGEMENT
• Domain 6 : SECURITY ASSESSMENT AND TESTING
• Domain 7 : SECURITY OPERATIONS
• Domain 8 :- SOFTWARE DEVELOPMENT SECURITY
Audience
• This 2 hour webinar is designed for anyone interested in becoming a CISSP
• The certificate is specially ideal for Security Consultants, Analysts, Security managers, auditors and architects