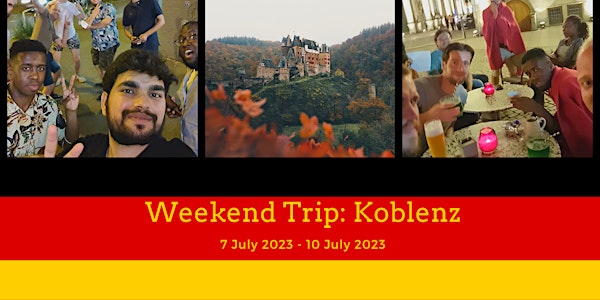 Weekend Trip 2023
Enjoy a weekend trip Friday - Monday with strangers that become friends. See German culture and enjoy local beers and wines.
By Hospitality & Travel Rotterdam
Location
Rotterdam Centraal Station 3013 AJ 3013 AJ Rotterdam Netherlands
About this event
You can contact us for questions or for booking the trip via
info@htr010.nl
Hotel-Sessellift Koblenz
The hotel where we will be staying is called Hotel-Sessellift Koblenz. It is a family-run hotel by the Singh family. We will rent multiple double rooms. If you join the weekend trip alone, you will be assigned a roommate.
We will stay in the Ehrenbreitstein neighbourhood. Within this district of Koblenz, you can find the famous fortress of the same name.
The Ehrenbreitstein Fortress, or in German Festung Ehrenbreitstein, is a fortress on the east bank of the Rhine where it is joined by the Moselle. The fort overlooks the town of Koblenz.
Altes Brauhaus Dinner
Welcome to the headquarters of the Königsbacher brewery in Koblenz. The Altes Brauhaus is a restaurant pub that serves German classics such as Schnitzels.
Altes Brauhaus Koblenz offers hearty dishes from Germany, freshly tapped beers and a unique atmosphere in the heart of Koblenz and Mülheim-Kärlich.
On the first night in the city, we organize a communal meal at Altes Brauhaus. We have a special menu, listed below, where you can choose what you want for dinner. Besides dinner, we also offer you one complimentary drink, which can be either a soda or a small beer.
Schnitzel Menu
Zigeuner-Schnitzel
with a spicy paprika sauce and French fries
Jäger-Schnitzel
with a creamy mushroom sauce and French fries
Schnitzel Wiener Art
topped with lemon, served with french fries
Bierkutscher-Schnitzel
with braised onions in beer sauce, with French fries
Zwiebel-Schnitzel
topped with plenty of braised onions and croquettes
Pefferahm-Schnitzel
with a pepper cream sauce and French fries
Allergies or diets
If you follow any diet or suffer from allergies, please, let us know when booking the ticket. We will forward this information to the restaurant. We will offer you a different dinner.
Dinner choices need to be decided on the morning of departure. So we can send all our options to the restaurant in advance. As we are with a big group, this ensures there won't be any hold up at Altes Brauhaus.
Mosel River Cruise
As one of the activities, we offer a Mosel River Cruise. The boat trip will last for two hours. While sailing, we will see the Ehrenbreitstein Fortress and the Deutsches Eck.
We advise you to sit down with a nice glass of local Riesling. And get your camera out when we sail past a beautiful landmark.
Weingut Kröber Wine Tasting
In 1956 Werner and Erika Kröber laid the foundation stone for the location of today's winery. In addition to the wine-growing business, they also manufactured wooden barrels in their cooperage. In the mid-1960s, however, the then-new plastic tanks replaced the traditional wooden barrel. By purchasing more vineyards, the focus shifted to viticulture. In 1991 Werner and Erika passed the winery on to their son Rudiger and his wife. In the following years, the vineyard almost doubled through acquisitions of new vineyards. In 2021 Rüdiger and his wife Ute passed the winery to their son Florian and his wife Stephanie, the third generation Kröber. This new phase aims to maintain and expand the high quality because tradition is not keeping the ashes but passing on the fire.
Public Transportation
To get to Koblenz, we will use various forms of public transportation. There are two different options you can book with us. The cheaper option excludes the Verkehrsverbund Rhein-Mosel (VRM) 3-day ticket. The more expansive option does include this public transportation ticket.
NS (OV-Chipcard) & Keolis
Within the Netherlands, everyone can travel with their OV-Chipcard. We have not included this within our tickets to keep prices lower. Group tickets with NS aren't much cheaper than travelling "solo".
When we arrive at Venlo, we take the train to Germany with Keolis. It is not possible to do this with the Dutch OV card. Buying tickets in advance also seemed difficult, but luckily enough, there are ticket machines at Venlo station we can all use.
Train Ticket Deutsche Bahn
Included in the ticket price is a round trip from Mönchengladbach to Koblenz and this same journey back on Monday.
VRM 3-Day Ticket
We offer to arrange for you a 3-day ticket valid throughout the whole Verkehrsverbund Rhein-Mosel. You can easily travel anywhere with this card.
The reach of the VRM network can bring you to towns like Winnigen, Kestert and Betzdorf. But also to cities like Siegen, Dillenburg, Gießen, Frankfurt am Main, Wiesbaden and Trier.
Cancelations, Refunds & Resells
We aim for twelve people to join us on this journey to Germany, including volunteers. We understand that sometimes life can happen, and it changes your plans.
Our refund-policy states that in no case we issue a refund. We do have a standby list and can help you resell your ticket. You can also resell your own ticket yourself. Do contact us to change the details on the ticket.
You can contact us for questions or for booking the trip via
info@htr010.nl