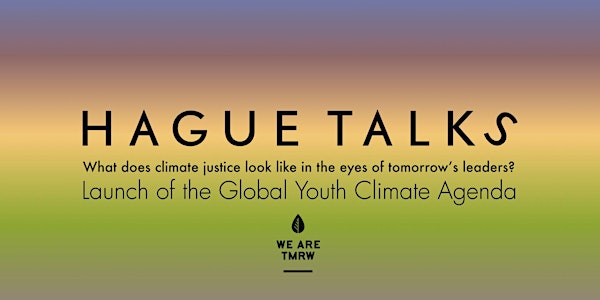 What Does Climate Justice Look Like in the Eyes of Tomorrow's Leaders?
Join We Are Tomorrow as we launch the Global Youth Climate Agenda: a shared vision for climate justice
When and where
Location
Old Church 8 Keizerstraat 2584 BJ Den Haag Netherlands
About this event
The climate crisis is the biggest threat to our future and its devastating impacts are already felt around the globe. At the same time, the generations that will face the brunt of the impact rarely have a say in the policies meant to address it. Ahead of the pivotal COP27 climate conference in Egypt, young people from across five continents have come together to present their vision for the future. In the Global Youth Climate Agenda, which will be officially launched during this event, they present their ideas for a climate just world.
Young advocates from Bangladesh, Nigeria and the Netherlands will speak to three of the main themes of this agenda. Why is it important to educate people of all ages on climate change? How do we adapt to the already inevitable consequences of climate change? What responsibility do Global North countries have towards countries in the Global South who suffer severe losses from climate change? Sohanur Rahman (Youthnet for Climate Justice, Bangladesh), Babatunde Osho (EarthPlus, Nigeria), and Laura de Vries (Jonge Klimaatbeweging, the Netherlands) will share their vision on these questions and what the answers mean for youth in their country.
The audience will have the opportunity to engage with the youth on these questions. Afterwards, the first official version of the Global Youth Climate Agenda will be handed over to Kitty van der Heijden (Director General for International Cooperation at the Dutch Ministry of Foreign Affairs) and to other high-ranking government officials around the world.
This event is co-organized by We Are Tomorrow Global Partnership, Hague Talks and the Dutch Ministry of Foreign Affairs.
For more information, see the Hague Talks page