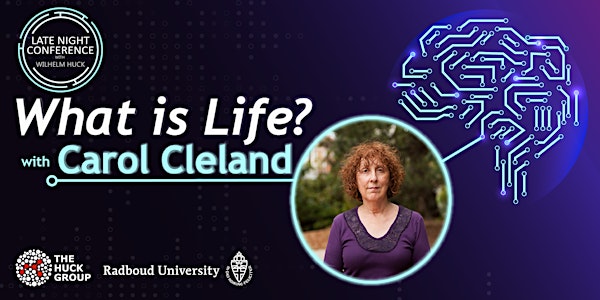 What is life? with Carol Cleland | Late Night Conference With WH 2X06
Location
Theaterzaal C | Radboud Universiteit
141 Heyendaalseweg
6525 AJ Nijmegen
Netherlands
Have you ever wondered what makes something alive? Get your free ticket now to participate in our LIVE discussion in Theatrezaal C!
About this event
Saving the best till last! Join us for the final episode of Season 2 of the Late Night Conference with Wilhelm Huck! As always, it will be streamed live on our YouTube channel Late Night Conference with WH (don't forget to subscribe!) from Theatrezaal C! We are excited to have you in our live audience and encourage participation in the discussion.
Please pay attention - tickets are required only if you will be attending this event in person, that is, please DON'T purchase one if you only want to watch the stream on YouTube!
With us will be Carol Cleland, Professor and Director of CU Boulder's Center of Study of Origins, who will be discussing the fundamental question: What is life?
Carol will take us through how we define what is alive. So bring your thinking caps and get ready to participate in this mind-blowingly, lively discussion! So, what are you waiting for? Get your ticket now to join us at Theatrezaal C for this exciting final event of the season and to meet Carol on the big screen!
In attending the LIVE event in Theatrezaal C, every attendee agrees to be filmed and/or photographed during the event. This audiovisual material can later be published by the organiser in media promoting the Late Night Conference.
*Corona rules permitting