Event Information
Location
De Drukkerij
Markt 51
4331 LK Middelburg
Netherlands
Description
Hoe nodig ik uit tot wezenlijke ontmoeting? - die vraag (en de wens om in 2020 het tv-programma Zomergasten te presenteren) lagen aan de basis van mijn nieuwe kunstproject Whatever the Weather. In 2018 ontmoet ik 144 mensen met wie ik ieder een dag lang in de buitenlucht verblijf. Wandelend langs de Noordzeehorizon van het Haagse Zuiderstrand. Genietend van de rust en ruimte, en het gevoel 8 uur lang alle tijd van de wereld te hebben.
Dat is heel bijzonder om te doen en beleven. Ik wil er in de tweede helft van dit jaar ook graag werk van maken om de inspiratie die Whatever the Weather vrijmaakt, door te geven. Die wens combineer ik met het verlangen om ook dit project in boekvorm te materialiseren.
Pop-up tentoonstelling
De 12 ontmoetingen van de herfsttour bestaan net als die op het strand uit een zorgvuldig vormgegeven ruimte voor aandacht voor de ontmoeting. Na een gezamenlijke incheck (13h00, na inloop vanaf 12h30) vertel ik over Whatever the Weather en geef ik antwoord op vragen die dat verhaal oproept. Daarna gaan we zelf aan de hand van een aantal oefeningen de ontmoeting aan. Met onszelf, melkaar, en met de foto's waaruit het project tot dan toe bestaat. Die neem ik in real-size mee naar de ontmoeting. Ter afronding delen we met elkaar wat we hebben beleefd, en is er voor wie wil gelegenheid om nog samen iets te eten of drinken.
Net als voor de 144 ontmoetingen op het strand, vraag ik voor deze ontmoetingen geen financiële bijdrage. Wel vraag ik je om, als je besluit erbij er bij te willen zijn, dat ook met onverdeelde aandacht te doen. Het aantal plaatsen is beperkt. Meld het tijdig als je er na aanmelding onverhoopt toch niet bij kunt zijn, dan kan iemand anders je plek nog innemen.
Bij jou in de buurt
De herfstontmoeting in Middelburg is de elfde in een serie van 12, elk op een bijzondere plek in een provinciehoofdstad in Nederland. Op www.whatevertheweather.nl lees je wanneer en waar een ontmoeting bij jou in de buurt plaatsvindt.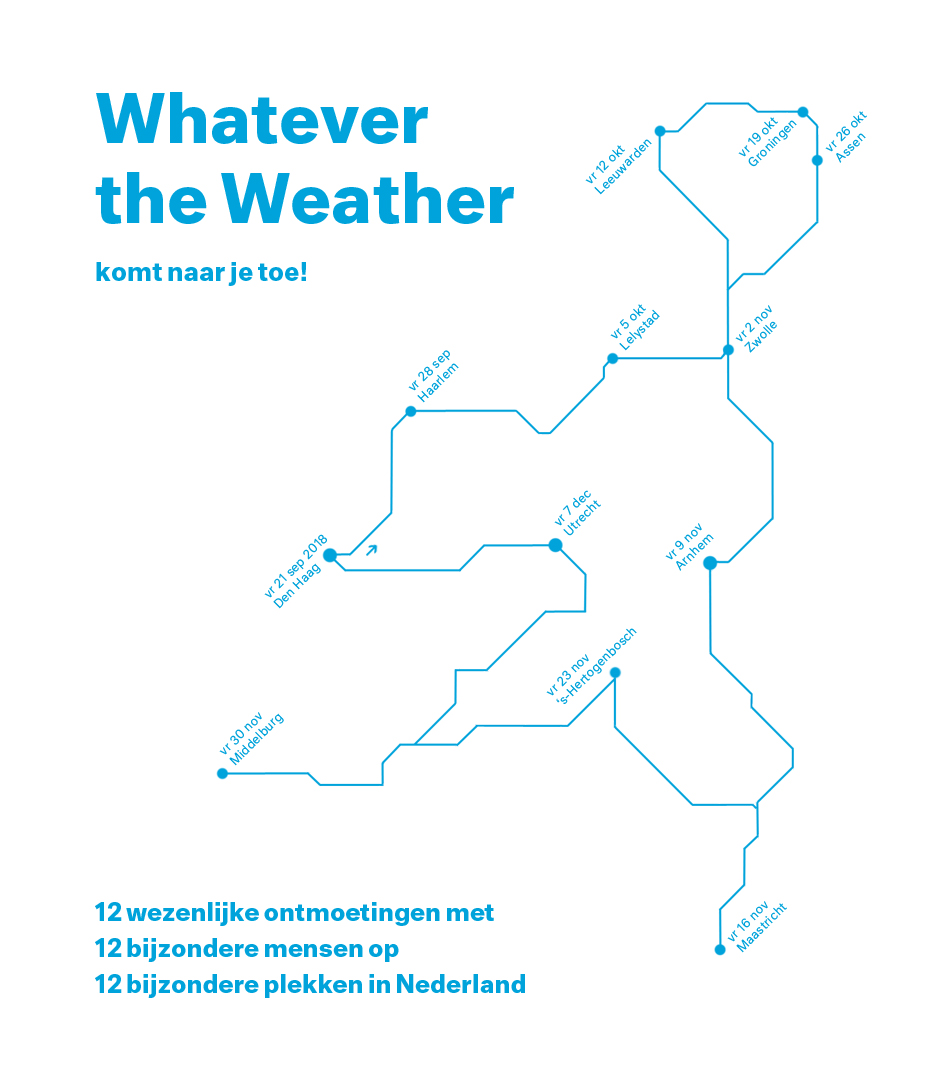 Date and time
Location
De Drukkerij
Markt 51
4331 LK Middelburg
Netherlands