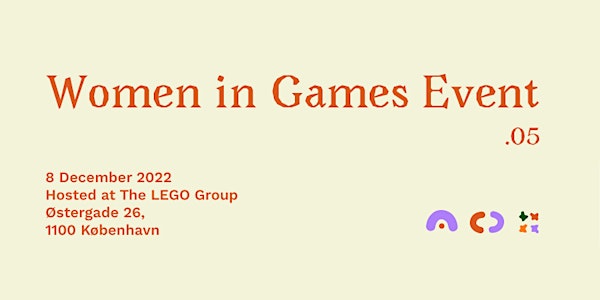 Women in Games Event #5
We are super excited to announce the next event by Women in Games DK at LEGO! Come join us to network, get inspired and have fun.
When and where
Location
Østergade 26 26 Østergade 1100 København Denmark
About this event
We're focused on co-creating a fun and inclusive space for women and gender minorities in the games industry to grow, connect, and inspire each other.
The theme for this event is mindfulness. The Women In Games (WiG) team wants to give you space and time to pause, be present, and connect with yourself and others. And this includes during play! With this event, we move away from more serious industry-related talks. Instead, we prioritize getting in touch with our mental health, and hope that it will be a fun and rejuvenating experience.
---
*This is an event exclusively for women and gender minorities. If this is not you, but you are an ally and want to support the cause, please follow us on social media, share our posts, and stay tuned for events that are open to all.
*Note: 1 ticket is for 1 person's admission. Unregistered guests are not permitted and will be turned away at the door.
---
Activities:
Attendees will be divided into 6 groups, and each group will rotate between 3 activities.
Yoga, taught by Charlene Putney and Carolina Bermejo Pascual. Beginner-friendly and low-intensity yoga. Instructor bios and session details can be found below. Please try to wear clothes that you will be comfortable in for this activity. If you bring a change of clothes, please arrive early as there will be limited time and space to change.
Building with LEGO.
Play workshop. WiG will facilitate a series of playful exercises and lighthearted games to encourage participants to be in the moment, relax, and connect with each other. Exercises will be in groups and in pairs. No experience is needed. Wear comfortable clothes.
Schedule:
17:00 Doors open
17:30 Activities begin
19:00 Dinner (see menu below for dietary info)
20:00 Mingling
21:00 End → moving on to the afterparty!
*Afterparty: The afterparty will be held at a nearby bar selected by the Women In Games team in advance. Exact location to be announced at the event.
*Finding the event space: LEGO's offices can be a bit tricky to find. Look for the hanging green sign for "Bernikow Gården"(see attached photo). This is a tiny street that takes you to many shops and offices. LEGO can be found if you dare venture inside! :)
Menu:
- Homemade falafel on edamame beans laid on chili aioli with pea shoots (VEGAN)
- French Emmentaler with rye chips
- Petit Four beef
- Sliders with rillette of oyster mushroom, fried kale and vegan dijon mayo (VEGETARIAN)
- Skewer a la caprese semidried tomato, Irish buffalo cheese and pesto (GLUTEN FREE)
- Smoked salmon tartar, sour apples, sour cream and horseradish
*Note: No alcohol will be served at the event, but there will be other beverages available. Please join the afterparty if you'd like to wrap up the evening with a drink. :)
Meet Our Yoga Instructors:
Charlene Putney
Charlene Putney is an award-winning writer and teacher from Ireland. After working at Google and Facebook in management positions for almost a decade, she turned to the more creative side of tech and began writing for games in 2013. Before moving to Denmark, she worked on Divinity: Original Sin 2 and story for the upcoming Baldur's Gate 3. She's currently creating LAIKA with her partner Martin Pichlmair to make machine learning more accessible to writers - sign up for our beta at www.writewithlaika.com. She also teaches interactive fiction at university level and yoga on Tuesday evenings. Say hi to her @alphachar!
Charlene's session:
(3 min) Seated breathing
Closing eyes, settling body, bringing the focus to the breath and the here-now
(4 min) Seated stretches
Waking up every part of the body with stretches matched to breathing: arms up, side stretches with cactus arms, neck rolls, stir the pot
(4 min) To all fours
Breathing in cat-cow, adding in leg stretches, child's pose side-to-side, downward dog… rolling all the way up to standing
(7 min) Standing poses
Sun salutations x 2, Triangle pose each side, Goddess pose
(4 min) Seated poses
Forward fold, Threadneedle
(8 min) Relaxation
Revolved belly twist, savasana with guided body relaxation
Carolina Bermejo Pascual
Carolina Bermejo started developing game-like experiences when seeking for different ways in which technology can help empower people and strengthen communication in social contexts.
She loves to explore and learn through play and movement and, before joining The LEGO Group, she worked with VR intrigued by the possibilities of bringing physicality to shared virtual spaces.
On the side, Carolina teaches aerial sports and yoga at different studios, with the same goal of spreading motivation and self-confidence.
Carolina's session:
(3 min) Seated breathing
Finding calmness, bringing awareness to the body and feeling grounded.
(4 min) Warm up on the floor
Gently moving our joints
(4 min) All fours
Cat-cow, thread the needle, Puppy pose, Downward facing dog
(7 min) Standing flows
Sun salutations x 2, Tree pose, Warrior 3
(4 min) Seated poses
Forward fold to baby Wild Thing
(8 min) Relaxation
Reclined Pigeon, supine spine twist and Savasana with guided meditation