Event Information
Refund policy
Contact the organizer to request a refund.
Eventbrite's fee is nonrefundable.
How do values shape our current and future practices and what can we learn from it?
About this event
Voertaal: Engels
Join our new Pioneers for Change - RE:IMAGINE series. This fall we will be guided by some amazing guests to discuss and rethink the question; in what world do we want to live? How does this relate to our modern worldview of seperation and infinite growth? How can we reimagine and reshape it and what do we need to know about transition theories and symtem change?
>>>>>>>>>>>>>>>>>>>>>>>>>>>>>>>>>>>>>>>>>>>>>>>>>>>>>>>>>>>>>>>>>>>
Workshop | Speculative Design & Rethinking Value
with: Anouk Geenen, Julieta Matos Castaño & Reon Brand
Learn to use your imagination, get to know the principles of Speculative Design. How can we rethink value in a changing landscape?
By engaging with speculative design, we will reflect on ethical and social impacts of current and future developments, raising relevant questions that help us rethink our present practices to achieve desirable futures.
Participants reflect on how values (and their meanings) might evolve as a result of the evolution of current trends leading to projected futures (i.e. Gaia/ track 4, Co-merging Futures study Reon Brand).
Flow of the workshop
4:00-4.05 INTRO
4:05 -4.35 RE:THINK - New Design Principles for emerging future Gaia, by Reon Brand (talk + Q&A)
4:35-5.40 WORKSHOP - Speculatve Design method
1) Zoom in on current practices and values
2) Value changes Gaia Future
3) Re-thinking your own level playing field: work, purpose, job
4) Prototyping your future (Gaia) job
5:40-6:00 RE:CAP - Attendees presenting work & shared reflection
NOTE
Ideally this workshop is experienced as a whole, combined with the insights from the pioneer session about Co-Emerging Futures on October 28, interactive lecture by Reon Brand, senior director Foresight, Trends and Peoples Reserach at Philips Design.
ABOUT
Julieta Matos Castaño is a postdoctoral researcher at DesignLab (Human Centred Design, University of Twente). Her research interests lie in the development of approaches to support collaborative futures making. In this project, Julieta explores ways to develop inclusive smart city visions. To this end, she explores the relations between design practices, inclusive imaginaries, sensemaking processes and smart city futures.
Anouk Geenen is a PhD candidate within the Human Centred Design group at the University of Twente. In her doctoral research, Anouk is combining the hands-on approach of design with the theoretical frameworks from philosophy and science and technology studies. Working on the smart city project, she will look at meaningful ways to bring various stakeholders together, to let them reflect upon the smart city technologies and co-create responsible smart city futures.
With a bachelor in Liberal Arts and Sciences and a master degree in Theoretical Physics combined with a Science in Society major, Anouk is an interdisciplinary scholar at heart.
Speculative Futures chapter
Next to their research, Anouk and Julieta co-founded the Speculative Futures chapter in The Hague which aims to bring futures-thinking to a wider audience.
PIONEERS FOR CHANGE | RE:IMAGINE Series
This session is part of a series of Pioneers for Change interactive webinars. With (inter)national pioneering speakers such as Jeremy Lent (The Web of Meaning), Reon Brand (Co-emerging Futures & Rethinking Value), Anouk Geen & Julieta Matos Castano (Speculative Design) and Jan Rotmans (Professor of transition studies and sustainability)
More information on: www.depioniersfabriek.nl/events
Read our Manifest and Join us as a Member: https://www.depioniersfabriek.nl/manifest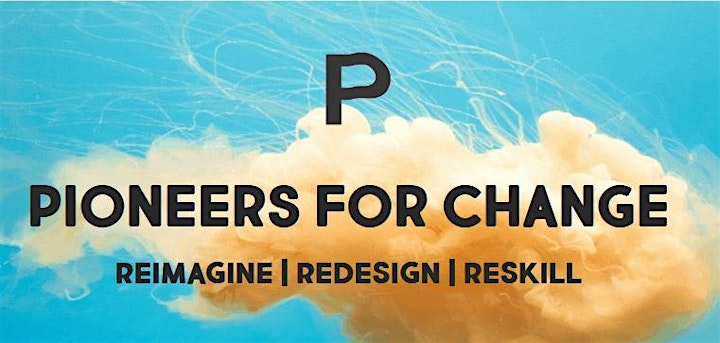 Date and time
Location
Refund policy
Contact the organizer to request a refund.
Eventbrite's fee is nonrefundable.