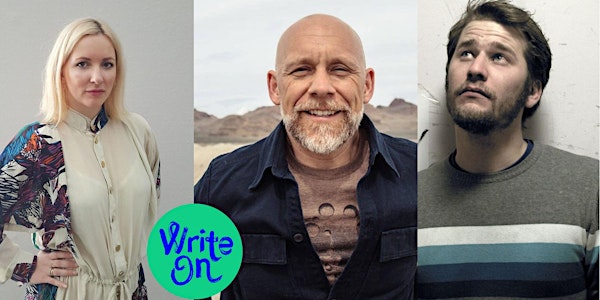 Write On @ Watershed
Write On @ Watershed: unique literary live workshops online with Buddy Wakefield, Elfie Tromp and Dennis Gaens.
Refund Policy
Contact the organiser to request a refund.
Eventbrite's fee is nonrefundable.
About this event
Watershed starts April 2 with a unique series of online literary workshops. Live and from renowned writers. For professionals and ambitious amateurs. With the coming months Buddy Wakefield (world champion slam poetry), Elfie Tromp and Dennis Gaens. Each teacher gives a two-hour workshop (4 times), each on Thursday evening at 8 pm. (Note: only Buddy's workshop on April 2 starts at 7pm instead of 8pm!)
What can you expect?
Our teachers give a live workshop via Zoom every Thursday evening for 4 weeks, for a minimum of 40 and a maximum of 80 participants. Each teacher does this based on their own experience, specialty and view of literature. Elfie is about literary writing, Buddy is about writing and performing, Dennis is about making a literary podcast.
You write, listen and give / receive feedback on your texts from the teacher, the moderator and / or your fellow participants.In between classes you will be in contact with the teacher, your fellow students and our moderator via a private Facebook group. Where you can ask questions, share ideas and texts with each other and give feedback and questions.
After each workshop you will receive a substantive report. Every lesson is recorded, all participants get access to the recordings. So you don't have to take notes during class, you can fully focus on writing and listening.
What does it cost?
Introductory price: € 80 for 4 workshops. Registration and payment via Eventbrite.You can also register for the entire Spring program, with a total of 12 workshops. Costs are then € 200. If you choose 2 of the 3 programs, you pay € 140. Do you want one of these combinations? Send us an email to info@stichtingwatershed.nl
Dates
Buddy Wakefield's 4 workshops: April 2, 9, 16 and 23
Dennis Gaens' 4 workshops: April 30 and May 7, 14 and 21
Elfie Tromp's 4 workshops: May 28 and June 4, 11 and 18
The fine print
You can still register up to a week after the first course. You can then download the first course. If you have to stop your participation after the course has started, you will not receive a refund, but you will receive a voucher for one of the following courses.