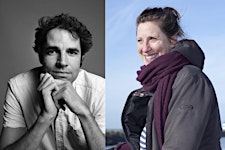 Bruno van den Elshout & Helen Hartmann
Dutch artist Bruno van den Elshout (1979) was born and lives in The Hague. He is the initiator of the projects Us Europeans, NEW HORIZONS and Whatever the Weather. Van den Elshout organised all previous 12 editions of the 24-hour horizon observation, in collaboration with different partners. The first 24-hour horizon observation took place on 10 April 2013, as part of the voyage towards the publication of NEW HORIZONS as a book.
Communications expert Helen Hartmann was born in 1976 to an English father and Dutch mother. She lived in various countries, including Germany, Great-Britain, Japan and Ireland. She now lives in The Hague and works as a freelance translator and communications expert within her company First Aid for Text.