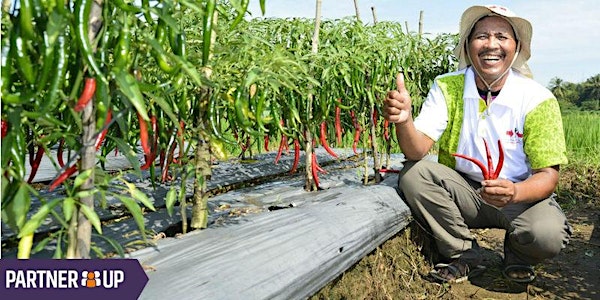 Geodata and ICT for Financial Inclusion and Food Security
When and where
Location
District Architecture Center 421 7th Street Northwest Washington, DC 20004
Description
Geodata and ICT for Financial Inclusion and Food Security
Innovative developments and opportunities for smallholder farmers
Through the Partner Up event, ICCO and Rabobank Foundation will bring together key international players on the topic of access to finance for smallholder farmers. As more than 2 billion people depend on smallholder farmers for their livelihoods and 70% of the global food supply comes from smallholder farmers, it is evident that they have a major role to play in feeding the growing world population. Early evidence suggests that recent developments in technological applications offer great potential to improve production, market, and data access. This, in turn, helps reduce the risk profile of smallholder farmers, which is an important stimulus for financial institutions to provide financial services. At the same time, technology can reduce the costs of financial services, and enable further outreach in rural areas and better services to their client base.
During the event, the current and potential impact of technological developments on agricultural production and access to finance for smallholder farmers will be discussed. After a brief presentation highlighting developments in and the challenges of using geodata and ICT in the sector, a panel of practitioners and funders will discuss initial experiences in the field as well as key factors for successful implementation and scalability. Participants will have the chance to network with other experts and discuss collaborative opportunities to advance the field.
Speakers:

Rabobank: Rajiv Singh, Rabobank North America and
Albert Boogaard, Head of International Programs and Innovation, Rabobank Foundation

ICCO Cooperation: Marinus Verweij, CEO, ICCO Cooperation and
Kees de Ruiter, Regional Manager, South East Asia

BanQu: Shailee Adinolfi, Vice President, Account Management and Marketing, BanQu

USAID: Chrissy Martin, Digital Finance Advisor, Global Development Lab

Opportunity International: Timothy J. Strong, Regional Agriculture Advisor/ Branchless Banking

Netherlands Ministry of Foreign Affairs: Tjeerd de Vries, Directorate General International Cooperation
Event details (2:30 PM – 6:00 PM EST):
Space is limited, secure your spot today!