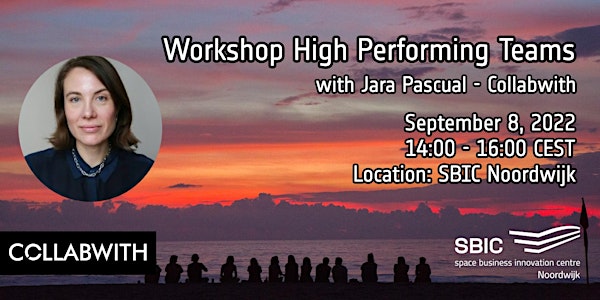 Workshop: How to create a High Performing Team
Learn how to create a high performing team and become a powerful leader with Collabwith
When and where
Location
SBIC Noordwijk Kapteynstraat 1 2201 BB Noordwijk Netherlands
About this event
Workshop: How to create a High Performing Team
Date: 8 September 2022
Time: 14:00 - 16:00
Location: SBIC Noordwijk
Outstanding leaders make use of Emotional Intelligence
Get advice on how to improve your leadership skills as well as your team performance, using emotional intelligence, from our community partner Collabwith. This interactive workshop will be given by Jara Pascual, founder & CEO of Collabwith.
The workshop will help you understand the dynamics of high performing teams and how to replicate them. High performing teams are the core of the motivation and productivity inside a team and an organisation. The key of a high performing team is to create and preserve a psychologically safe environment. How is it possible to create such an environment within new teams, virtual and remote teams - and how to change an already existing team into a high performance team? The answer is to use your Emotional Intelligence Skills.
• Would you like to improve your Leadership competences?
• Would you like your team to become a high performing team to increase the ratio of its productivity?
• Can you create a high performing team online or remote?
Description of the workshop:
The objective of the workshop is to understand the secrets of team management and team leadership for remote, virtual, hybrid or physical teams. This workshop will provide you with guidelines and with the toolkit you need everyday to perform as a team and as an individual.
The workshop is built on the best practice and know-how of successfully becoming a leader but also a great team member because you will understand the team dynamics from a different perspective and how to communicate more efficiently. Material will be provided beforehand and during the workshop.
Why does your Team need Emotional Intelligence?
• Performance is Trust.
• Trust is not about intelligence, to generate Trust you need Emotional Intelligence Skills to make the group psychologically safe and to perform and being all alienated to the same goal and emotion to be productive and safe.
• EI skills are mathematics, it's a mechanic tool, you can learn it all.
• Team Performance is motivation, creating a trust environment, and psychological safety to be able to communicate non-violent ways with no competition and no assumptions.
Agenda of the workshop:
• Introduction to Emotional Intelligence
• Team Performance and Teaming including dynamics
• Link Team Performance with Emotional Intelligence
• Descriptions of each emotion and effect on team performance
• Remote teams vs remote leadership
• Emotional Intelligence Canvas
• Open Discussion
• Practical Takeaways
About:
Jara Pascual, MBA and Master of Telecommunication Engineering, is a founder and CEO of Collabwith, an author and an entrepreneur focused on innovation. Collabwith is an online platform bringing people together and encouraging online and offline collaborations. As board member of the Forum Knowledge4Innovation, her voice is heard regularly at the European Parliament, discussing the topics of female investment, digitalization, from Lab to Market and academia-industry collaboration. She is also the host of the Innovation Podcast "Business of Collaboration". She writes about innovation and collaboration management for different online magazines, is a Chair of the WG Innovation Ecosystems at AIOTI and Co-founder EuroSpaceHub, and has worked for 15 years in Innovation Management performing transformational innovation culture and projects in a number of Fortune 500 Companies and R&D Labs.
Collabwith is a Community Partner of SBIC Noordwijk.