Dit evenement is afgelopen.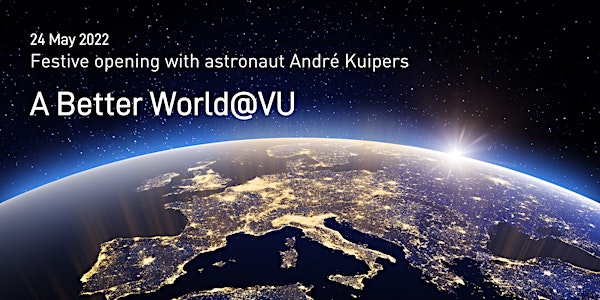 A Better World@VU
Festive opening A Better World @VU with André Kuipers
Waar en wanneer
Locatie
Nieuwe Universiteitsgebouw 1111 De Boelelaan 1081 HV Amsterdam Netherlands
Kaart en routebeschrijving
Over dit evenement
Festive opening with Dutch astronaut André Kuipers
On Tuesday 24 May 2022, we will celebrate the opening of the A Better World @VU exhibition!
Sustainable projects Vrije Universiteit Amsterdam
A careful selection has been made of 16 projects that represent the wide range of sustainability projects at VU Amsterdam in education, research and as community. The multimedia exhibition will be opened on 24 May. Join the event for a keynote by Dutch astronaut André Kuipers and to meet the students, researchers and colleagues behind the projects and to learn more about their motivation to contribute to a better world.
The event will take place in the NU-Building VU, De Boelelaan 1111. We kindly ask you to be on time, the programme will start promptly at 14:15.
Date: 24 May 2022, Walk in: 13.45h, Start programme: 14.15h (sharp), Closing drinks: 15.45h, Location: NU-building (Atrium).