Dit evenement is afgelopen.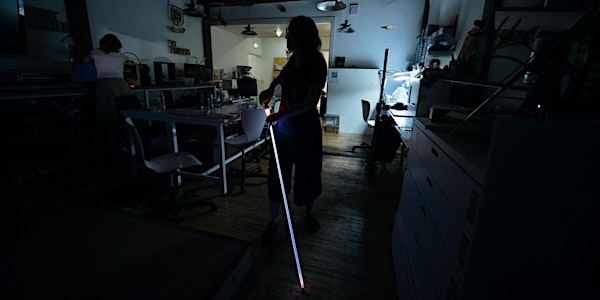 MakeHealth Meetup: White Cane Safety Day
Waar en wanneer
Locatie
Waag Nieuwmarkt 4 1012 CR Amsterdam Netherlands
Kaart en routebeschrijving
Beschrijving
During the first MakeHealth: Prototyping series earlier this year, Debby Marchena developed a luminous white cane in FabLab Amsterdam. During this MakeHealth Meetup on International White Cane Safety Day, Debby will present her prototype and ambitions for the future. Visitors will have the opportunity to become an early adopter and purchase one of the first prototypes for the 'Marchena Bright White Cane 1.0'. Debby is looking for user feedback in order to develop the project further. Through the open source sharing of her knowledge and experience, Debby hopes to spread light around the world to help improve the safety of those with visual impairments.
Pimp my cane
Debby Marchena lives in Amsterdam and has a visual impairment. Earlier this year, she was struck by a motorist who hadn't seen her in the dark. In order to increase the visibility of people with visual impairments, Marchena wanted to make her cane light up at night. Now her Jedi-style, luminous white cane should help to prevent future accidents.

Debby is continuing to further develop and improve her prototype. On 15 October, Debby will launch a campaign to make her model open source and available to the public. Her ambition is to prevent accidents, to get people with visual impairments using this model, and to ensure that (in 2030) the algorithms in self-driving cars will recognise her cane and respond to it. The programme will include a presentation on the development trajectory and the realisation of the luminous white cane as well as a brainstorm session about the further development of the project.

About Made4You
In Made4You, citizens, healthcare professionals and makers work together to design and develop personalised care applications. Healthcare has changed radically over the past century. For a growing group of citizens, products and services in healthcare are either too expensive, do not match their needs, or simply do not exist yet. With the advent of better technology, the possibilities for developing digital healthcare applications have increased. With MakeHealth we want to develop new, open design applications and publish them online.
This project has received funding from the European Union's Horizon 2020 research and innovation programme under grant agreement No. 780298.