Dit evenement is afgelopen.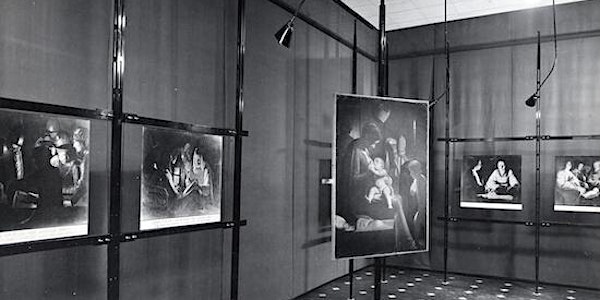 Members trip: Architecture Triennale & Art on Display in Lisbon
Waar en wanneer
Locatie
Lissabon Portugal
Kaart en routebeschrijving
Beschrijving
Het Nieuwe Instituut is offering an exclusive two day trip to attend the Lisbon Architecture Triennial and the Art on Display 1949-69 exhibition and conference at the Calouste Gulbenkian Museum in Lisbon on Friday 8 and Saturday 9 November 2019.
Registration via Eventbrite is closed. Please send an email to members@hetnieuweinstituut.nl if you wish to participate.
Het Nieuwe Instituut Members, alongside selected guests (press, relations), a special insider's experience of the exhibition Art on Display 1949-69 with talks and a tour by the two curators Penelope Curtis (director of the Gulbenkian Museum) and Dirk van den Heuvel ( Jaap Bakema Study Center). Furthermore the group will visit Lisbon Architecture Triennale: The Poetics of Reason . Art on Display 1949-69 investigates the relationship between art, architecture and the public by focusing on art exhibitions designed by architects Aldo van Eyck, Lina Bo Bardi, Carlo Scarpa, Franco Albini and Alison and Peter Smithson.

Together with the Calouste Gulbenkian Museum Het Nieuwe Instituut is organizing an afternoon about (re-) making exhibitions. Strategies for dealing with the question of reconstructing exhibitions and historic ways of looking at art will be discussed, as will the question of how design helps us to look at and be with art. Besides the two curators, Wouter Davidts (art and architecture historian), Guus Beumer (director of The New Institute) and Ippolito Pestellini Laparelli (architect, designer or exhibitions and partner or OMA) will engage in the conversation. The program will be followed by a private cocktail party.
Spaces are limited so sign up soon. Travel and accommodation are not included, but all programming for the weekend is free. Scheduling assistance for discounted accommodation is available for Members who sign up.
Practical Information
Date: Friday 8 and Saturday 9 November 2019
Location: Lisbon, Portugal
Participation is free, after registration
Travel and accommodation costs are not included
Website



Become a Member
Become a Member of Het Nieuwe Instituut and you'll support our mission to navigate the permanent and evolving field of design. You'll also be inspired by our special program of Members' events, meeting up with other like-minded people as we invite you to reflect with us on design's changing role in technology, economics, culture and society.
Image: Franco Albini, renovation of Palazzo Bianco gallery space, Genova, 1949-51. Photo © Fondazione Franco Albini