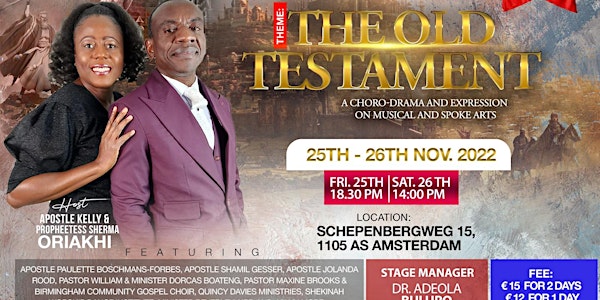 26 November: A Production on The Old Testament
This is a production of the Old Testament in which the Word will come to life through dance, drama, song and speech.
Waar en wanneer
Locatie
Schepenbergweg 15 15 Schepenbergweg 1105 AS Amsterdam Netherlands
Kaart en routebeschrijving
Beleid voor refunds
Neem contact op met de organisator om een restitutie aan te vragen.
Eventbrite-kosten zijn niet restitueerbaar.
Over dit evenement
The Old Testament
In 2019 you have been able to enjoy the production on Joseph and in 2022 it is not only Joseph, but The Old Testament.
The Old Testament was all about God's plan for man, the fall of man and how God intends for man to come back to Him. The Old Testament starts with Genesis and ends with Malachi. In this production The Old Testament comes alive through the songs, drama, music, dance and spoke words. With the intention to understand and read the bible each time with a different glass and see what you can learn and unlearn. Each chapter teaches us something new about God's plan and purpose for man.
Sin came and God had to work out another plan to bring back man to eternal life. He had to send the Messiah The New Testament.
Team Old Testament 2022:
Writer and Producer: Prophetess Sherma Oriakhi-Merselina
Stage Manager: Dr Ade Buluro (UK)
Dance Team: Apostle Gaditcha Forbes, Shekinah Worship Dance Institute (Holland)Worship
Team: Pastor Maxime Brooks (UK) under coordination of Psalmist Angala Lynch.
Drama Team: Brother Michel and Sister Chidanta Deel
Spoken Word: Prophetess Sherma Oriakhi, Apostle Kelly Oriakhi, Pastor William Boateng, Prophetess Dorcas Boateng, Pastor Nana Ben Baiden, Apostle Paulette Boschmans-Forbes, Apostle Jolanda Rood and Apostle Shamil Gesser.
Musicians: Pastor Dan Davies (Quincy Davies Ministries) under coordination of brother Jilby Scheuer.