Dit evenement is afgelopen.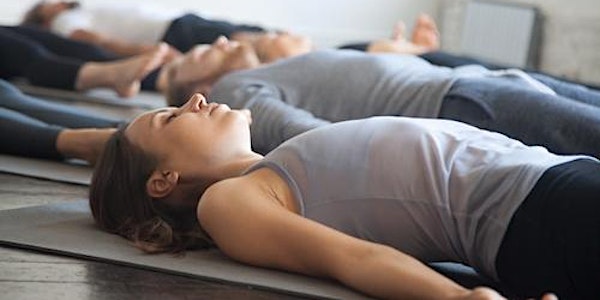 8 Week Yoga Nidra Haarlem Community Class
8 Week Yoga Nidra Community Class in English - October to December 2022 (3x drop-in possible)
Waar en wanneer
Locatie
Klein Heiligland 84 84 Klein Heiligland 2011 EJ Haarlem Netherlands
Kaart en routebeschrijving
Beleid voor refunds
Neem contact op met de organisator om een restitutie aan te vragen.
Eventbrite-kosten zijn niet restitueerbaar.
Over dit evenement
https://yoganidra.aljaberkcoaching.com/haarlemclass/
Yoga Nidra is a conscious relaxation practice, supporting you on a journey to awaken your true self. It literally means 'Yogic Sleep', where your senses, intellect, and mind relax. This causes brain activity to decrease, and the body to go into a 'recovery' state. 1 hour of Yoga Nidra equals 4 hours of deep sleep. In this healing state, you give your body the chance to clear up the toxins, and release emotional blockages from the subconscious.
Yoga Nidra, a part of a wider 'Yogic philosophy' (consisting also of asanas, pranayama & mantras,…) is ancient in traditions such as Hinduism and Buddhism, meaning it is thousands of years old. The modern technique was developed by Swami Satyananda around 1950, and since then it has been widely adopted in the West. Many scientific studies link Yoga Nidra with health benefits, such as the effect of Yoga Nidra on stress release, self-esteem, pain management, insomnia, and menstrual disorders.
When Yoga Nidra is practiced consistently - week by week-, 'a new intelligence' gets awakened within a practitioner. Like any habit, it stores in the cellular memory, and supports the practitioner their whole life going forward. This 'super-power' is the ability to deeply relax at any given time by shifting awareness inwards, which translates in a better day-to-day stress management, and improved sleeping habits (all stages: falling asleep, sleeping, and waking up).
8 weeks: 20.10.2022-8.12.2022
Every Thursday night from 19.30-20.30
(next term 9.2.2023-30.3.2023; Sign-ups in advance are welcome)
19.20: Arrival & Tea
19.30 – 19.35: 5 minutes introduction
Instructions on how to practice Yoga Nidra correctly (position: shavasana, awake state, setting your own 'sankalpa' correctly)
19.35-19.50: Tibetan Yoga to prepare for Yoga Nidra
These are gentle movements, leading to feeling the inner energy field of the body . If someone cannot do them, instructions are adjusted.
19.50-20.30: Yoga Nidra
(Various stages of awareness: whole body, senses, body parts, mind, opposites. Meanwhile 'sankalpa' to plant positive intention in the sub-conscious mind for 'conscious manifestation')
20.30-20.40: Space for reflection & Tea
LATER: BEST SLEEP OF YOUR LIFE :)!
NEXT MORNING: A MORE 'ALIVE' VERSION OF YOU
Good to know:
- Yoga mats and blankets are provided, however you can always bring your own. It is actually encouraged to have your own mat, as it represents your own 'sacred space' for yoga practice.
- Dress comfortable and warm, because during the practice of Yoga Nidra, the body temperature drops. There is also heating in the space.
- Toilet available next door
WHY YOGA NIDRA WITH ALJA?
- Certified YN practitioner
- Learned about YN from it's origin (Bihar School of Yoga)
- Understands the science, philosophy, and body/neurological mechanisms involved
- Confident guiding anyone with a therapeutic condition (please do disclose this upfront)
- Warm, openhearted, and a committed yogi with a lot of spiritual knowledge (about various styles of yoga & meditation, and how they relate to each other)
VALUE 8 WEEKS = 135 EUR, inc. VAT | 3x 'DROP-IN' CLASS = 58 EURO, incl. VAT