Dit evenement is afgelopen.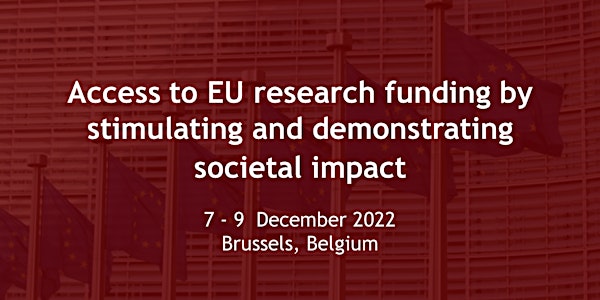 Access to EU research funding by stimulating and demonstrating impact 2022
The course on developing good practices among research institutions for successful EU research funding applications.
Waar en wanneer
Locatie
Brussels Belliardstraat 41/43 1040 Brussels Belgium
Kaart en routebeschrijving
Over dit evenement
Tickets for this event are not available through EventBrite. Please check the description below or visit our website to know more.
Research institutions, most notably, Universities (of Applied Sciences) throughout the EU are increasingly in the position to apply for EU research funding. Several EU initiatives were launched to give Universities access to these grants in order to strengthen their research programmers. To increase the chances of receiving this funding, it is important to know how the EU decides on these applications and understand the role of demonstrating the Societal Impact of the research project in this process. This 3-day course invites research managers and administrators to profit from the knowledge of our Impact and EU experts to put their insights to practice. The course will map out recent insights and results on measuring the impact of EU research and outline how the Union defines societal and economic impact. We will examine possibilities to enhance collaboration between universities, universities of applied sciences and research institutions and discuss how they can improve the demonstration of "impact" in their EU research funding applications. We will provide tools to optimise this even further by using the format of a Research Consortium which will include a segment with tips and tricks to help you to successfully apply for EU funding.
Find more information on the event, including the programme, confirmed speakers, on our website.
To register, click here. Please note that you can browse through the terms and costs for participation on this event, and learn more about the benefits of becoming a AESIS member.