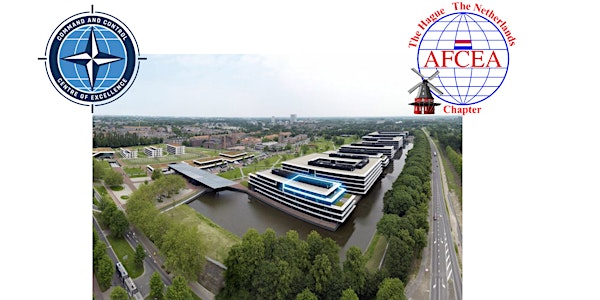 AFCEA seminar 13 april 2023 15:00: Multi domain C2 in a whole of society
Inform and challenge participants on the arguments and theory surrounding multi-domain operations (MDO) and multi-domain C2 (MDC2)
Door AFCEA The Hague Chapter
Datum en tijd
do. 13 apr. 2023 15:00 - 19:00 CEST
Locatie
Kromhoutkazerne Herculeslaan 1 Gebouw K2 3584 AB Utrecht Netherlands
Beleid voor refunds
Neem contact op met de organisator om een restitutie aan te vragen.
Eventbrite-kosten zijn niet restitueerbaar.
Over dit evenement
4 uren

eTicket voor mobiel
Sponsoren, Rijksambtenaren, Politie, Defensie, stuur een mail aan ad.koolen@afcea.nl voor een "free ticket" ! 😎
When: DONDERDAG 13 april 2023; From 15:30 till 20:00
Where: Kromhoutkazerne Utrecht
For whom: All people in the community; Defence, Police or Public service
Primary audience: Military , Police and Public Safety personnel and companies interested in a deeper understanding of the newest technological developments in P&O / HR related to the Public Safety Market.
The aim of the seminar is to inform and challenge participants on the arguments and theory surrounding multi-domain operations (MDO) and multi-domain C2 (MDC2) by providing the latest insights and perspectives on C2 in a layered operating environment. In order to achieve this, the NATO C2COE has invited experts to share their viewpoints on various aspects of MDO and MDC2, thus illustrating its increased relevance, while providing the initial framework for C2 in the not too distant future battlefield.
About us
The Command and Control Centre of Excellence (NATO C2COE) was established in 2007 on the initiative of the Netherlands to create a group of Command and Control (C2) Subject Matter Experts supporting the transformation activities of Supreme Allied Commander Transformation (SACT) and of the Sponsoring Nations of the NATO C2COE. We support NATO, nations and international institutions/ organisations with subject matter expertise on Command & Control.
More information will soon follow
Programma:
• 15.00 Inloop met koffie of thee
• 15.30 Titel
 De visie
 Onderwerp
 Spreker
• 16.00 Titel
 Onderwerp
 Spreker
• 16.30 Koffiepauze
• 17.00 Paneldiscussie met de deelnemers





 17.45 Warme maaltijd in restaurant
 19.00 Sluiting
Over de organisator
AFCEA The Hague Chapter
AFCEA is a non-profit international association founded in 1946. Today, AFCEA serves as a bridge between government requirements and industry capabilities, representing the top government, industry and military professionals in the fields of communications, electronics, intelligence, command and control and information management systems. The purpose of the Association is to provide its members a common forum for exchanging information to advance the economic security and peaceful stability of democratic nations, and to support the military preparedness necessary to maintain that security through the fields of communications, intelligence, and information systems. AFCEA provides an ethical environment that encourages a close co-operative relationship among civil government agencies, the military and industry. Through its Journal, SIGNAL, AFCEA covers Communications, Intelligence & Information Systems disciplines extending beyond purely military aspects and addressing security in its broadest sense.