Dit evenement is afgelopen.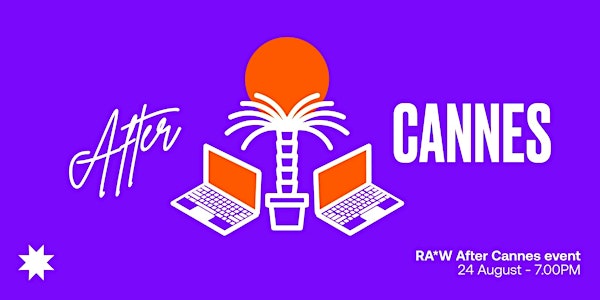 After Cannes by RA*W
RA*W presents After Cannes
Waar en wanneer
Locatie
SKYBOX, ADAM toren Overhoeksplein 1 1031 KS Amsterdam Netherlands
Kaart en routebeschrijving
Over dit evenement
What happens in Cannes, shouldn't stay in Cannes!
Got fomo because you couldn't attend last Lions Festival of Creativity? No worries, we've got your back since we're hosting an After Cannes event, at which the most inspiring work will be presented.
What to expect? A Cannes Lions overdose of inspiration, knowledge, insights and cases from inspiring speakers, ranging from RA*W Summer Course participants and Young Lion winners to Creative Directors and a mystery guests you don't want to miss. The program lasts about two hours, afterwards there's time for networking and grab a beer together, or rosé ofcourse.
We're very hyped to host our After Cannes event at nowhere less than SKYBOX in the epic A'DAM toren! 👀 As we mentioned before….. this evening will literally take you to the clouds above! 🚀
* Good to know: we will provide some snacks during the evening, but make sure you've eaten prior to the event since these snacks will not satisfy your large appetite.
Navigation info
By car: navigate to "Parkeergarage A'DAM Toren, Overhoeksplein 1, 1031 KS, Amsterdam.
By public transport: Take the Buiksloterweg ferry at the "IJ-zijde" on Amsterdam Central Station. Make sure you hop on the right ferry (to Buiksloterweg). After you get off the ferry, you can walk to the A'DAM Tower.
Go to the entrance of Sir A'DAM Hotel. You can check-in at the host behind the reception desk, he will escort you to the 10th floor.
Guestlist
Since we have limited space we need to strictly handle the guest list. If you don't have an Eventbrite ticket -your name is not on the list, and unfortunately we can't give you access in this case.
We will release the program soon. For now, save the date: 24th August from 18:30 till 22:00.