Dit evenement is afgelopen.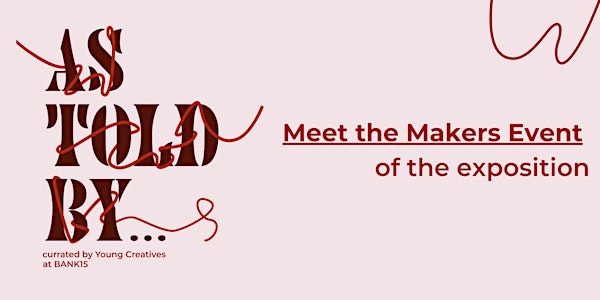 AS TOLD BY - Meet the Makers Event
Curious who the makers are behind the exposition 'As Told By'? Want to meet other creatives over a drink and a cool program?
Waar en wanneer
Locatie
BANK15 Café Breda 11 Sint Janstraat 4811 ZK Breda Netherlands
Kaart en routebeschrijving
Over dit evenement
❤️ So you up for a fun, inspirational night where you can meet our & many other makers? Don't worry you don't have to be next level creative, just come by!
'As Told By' - Our newest exhibition with the event MEET THE MAKERS 🔥
Want to meet other makers/creatives? Everyone from a creative thinker, till beginning drawer or in a further stage of their passion or career is welcome! This event is shaped to connect with like minded makers and learn and get inspiration from each other!
Sneak Peak 👀 into our program for that night
Tour through the exhibition
Uriël (podcastmaker Molukse Takkie) is doing a live podcast with guest Elias Huwaë (from GOEDZOOI)
Myke (social & graphic designer) has an stunning experience for the audience about her 'A Look Inside - visual research on Neurodiversity'
Mona (filmmaker) will take you through the steps of her award winning documentary 'Only The Forgotten is New'
Drinks of course !!
Location: BANK15, Breda
Walkin 7pm - start program 7.30pm
Untill: 9 pm - Drinks untill: 10 - 10.30 ish
Information
This event is connected to the 3 week during exposition 'As Told By' at BANK15. And a follow up of our successful event 'Creative Pitch Night' where 3 winners got a kickstart budget to work on their creative idea. Want to see what they have created? Come to our event! Or take a look from 6 dec untill 27 dec at the open expo at BANK15.
We present you the work of our 3 pitch winners:
👉Mona Schier - Filmmaker and maker of the documentary Only the Forgotten is New'
👉Uriël Matahelumual - Podcast Maker Molukse Takkie
👉 Myke Klijn - Social and Graphic Designer 'Visual research on Neurodiversity'
3 makers, 3 stories coming together in 1 exhibition and 1 event.
About the event MEET THE MAKERS
Let us introduce you to the 3 creatives that shaped 'As Told By'. We don't want to spoil to much, because at MEET THE MAKERS you will learn more about them and experience the creative process behind every project.
Mona Schier - Filmmaker
→ Only the Forgotten is New Documentary
Maker of the most significant and difficult documentary project called "Only the Forgotten is New". By pitching the concept of the short documentary she won the "FEST Film Lab Award" at the FEST Film Festival in Portugal and won a prize from the "Young Creatives, Creative Pitch Night".
Come to our event and expo for an emotional and educational insight in the movie industry by following the production of the documentary "Only the Forgotten is New" from the development over the production to distribution.
Myke Klijn - Social & Graphic Designer
→ A Look Inside Experience
Everyone's brain works a little differently. But with a neurodivergent brain, often labelled as a disorder like autism or dyslexia, it is more different from the status quo, which we call neurotypical. And exactly how differently your brain works is often hard to explain. So how great would it be if you could just take a look in someone else's head and see how they feel or think.
With this project I want to make people's experience with being neurodivergent visible, figuring out a way to better understand each other.
Uriël Matahelumual - Podcastmaker
→ Molukse Takkie Podcast
We voluntarily make this podcast named Molukse Takkie because we have a passion for Moluccan stories and history and we want to educate and inspire people in and outside the Moluccan community. His goal is to record new episodes of the podcast of the Moluccan neighborhoods in Breda.
About the Exhibition 'As Told By'
Stories told by different creatives, all in their own language. Whether it is spoken, visual, digital, physical or musical, they all show their way of translating someone else's story. The exhibition is live untill 27th of Dec, so come take a look (and it's free!).