Dit evenement is afgelopen.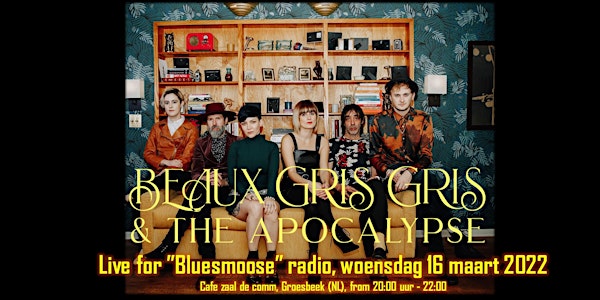 Beaux Gris Gris & the Apocalypse live @ Bluesmoose (15,00 betaal aan kassa)
Beaux Gris Gris & the Apocalypse live at Bluesmoose Radio special Live recording
Waar en wanneer
Locatie
Café Bar Zaal De Comm Dorpsstraat 12 Ingang Pompweg 2b 6562 Groesbeek Netherlands
Kaart en routebeschrijving
Over dit evenement
Entree 15,00 - Beaux Gris Gris and the Apocalypse.
Opnames verplaatst naar 16 maart 2022 (oorspronkelijk 12 september 2022)
Beaux Gris Gris & The Apocalypse Tour Cancellation.
It's with a heavy heart that we are forced to cancel our forthcoming SEPTEMBER 2021 UK/EURO Tour. Although all our band members are all double vaccinated, the UK has not lifted the quarantine requirements for US travelers and the United States CDC has recommended against all travel to the UK because of increased Covid numbers and the Delta variant. We also do not yet know what restrictions European countries will have, and the decisions will not be made until shortly before our scheduled departure. On top of that we would have to be tested a number of times per band member, and if we were to receive a positive test within the band (which can happen even if you are vaccinated) we would all then be subject to quarantine, stranded, and the costs would be astronomical. We think in fairness to all the venues, our band members, and ticket holders we have to make this decision now as we don't want this to all happen last minute and cause more costs and frustrations.
We are working with all venues and festivals involved to reschedule starting in March 2022. Thank you to everyone involved for being so understanding. We are all still in the thick of this pandemic. If you haven't been vaccinated we urge you to do so; it severely reduces the risk to yourself and others, and is the only clear path forward for all of us to enjoy live music and our lives once more. In the meantime, we will be releasing some new music and continuing to create content and shows online.
Much love, Beaux Gris Gris & the Apocalypse (Greta, Robin, Mark, Ali, Emma & Stephen)
De entree voor deze Bluesmoose Café opname sessie met Beaux Gris Gris and the Apocalypsebedraagt € 15,00. Reserveer nu wel, maar reken pas af op de dag zelf
Kun je niet kun je ticket annuleren.
Ze waren in 2018 al eens te gast bij Bluesmoose Radio. Het blues project van de Hoaxleden Mark Barret en Robin Davey. Beaux Gris Gris and the apocalypse.
When LouderSounds preaches "Let Beaux Gris Gris & The Apocalypse twist yer melons and remind you of the wonder of life" it might be because the bands vibe is easier to pin down than their unique take on the roots genre. Rockshot Magazine elaborates "This extremely entertaining collective is a New Orleans-inspired, American blues-folk-soul band, who refuse to be pigeon-holed"
Beaux Gris Gris and The Apocalypse debut album Love & Murder spurned Top 10 hits in blues charts across Europe. The albums wide reaching appeal earned it a #13 placement in the "Top 50 Albums of the year" by Classic Rock Magazine, describing it as "A sensual, vibrant blues cocktail that feels worlds away from the blandness and dustiness that the blues (new blues especially) is sometimes accused of".
To fully understand Beaux Gris Gris & The Apocalypse is to experience the band live, a mix of soulful songs and intense energy, with world class and award-winning musicianship. RhythmBooze summed up the shows finale as "A mind boggling, blistering finish with everything thrown in including the kitchen sink...truly memorable"
Having headlined festivals across Europe, including Upton Blues Festival (UK), The Great British R&B Festival (UK), Moulin Blues (Netherlands) and Blues Alive (Czech Republic), the band were nominated for Band of the Year at the European Blues Awards.
Multi-award-winning vocalist and songwriter Greta Valenti is a New Orleans Native. Her rock outfit Well Hung Heart (OCMA's Best Live Band) toured the USA opening for the likes of Foreigner and Offspring. With Beaux Gris Gris, Valenti taps into her Louisiana roots and is able to show the full range of her vocal prowess. Classic Rock Magazine singles out album track Have Mercy as an example - "A soul belter on the tightrope between Aretha's Respect and the Stones You Can't Always Get What You Want"
Guitarist Robin Davey was the youngest ever inductee into the British Blues Hall of Fame as a founder member of cult British Blues band, The Hoax. As a producer, he achieved a Top 5 hit on the Billboard Blues Charts, and has recorded with a wide spectrum of artists from Mick Jagger to Katy Perry.
Bungalow Paradise is the first single from their forthcoming second album. It immediately hit #2 in the French blues charts and top 20 in the UK blues charts. In the USA it was play-listed on radio across the country (including KHUM & KCSN California, KJAC & KVNF Colorado, WYCE Michigan and WCLX New Hampshire). The new album is set for worldwide release in September 2021.
Band:
Greta Valentie - Vocals
Robin Davey (Guitar)
Emma Johnson (Keys, Vocals)
Ali Coyle - (bass)
Stephen Mildwater (keys, Guitar, vocals)
Mark Barret (drums)