Dit evenement is afgelopen.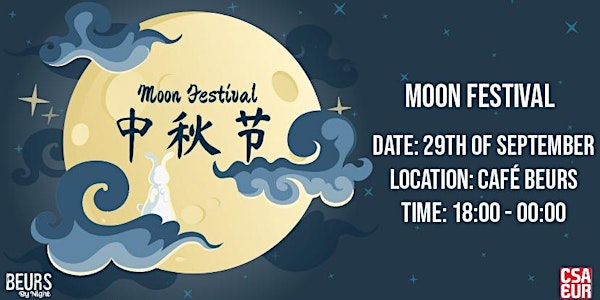 Beurs by night | Wednesday CSA-EUR Moonfestival
Beurs by Night | CSA-EUR Moon Festival!
Waar en wanneer
Locatie
De Beurs Kruiskade 55 3012EE Rotterdam Netherlands
Kaart en routebeschrijving
Over dit evenement
✨SAVE THE DATE✨
We are back with the infamous 🍁🏮 Moon Festival🏮🍁!!
CSA-EUR is here to celebrate the first event of this semester! The Moon Festival is traditionally held to celebrate the glistening fortune of the full moon. Come and experience a blissful night, while enjoying some drinks and FREE mooncakes!
Join us on the 29th of September at Café Beurs for an unforgettable evening with fellow moon conquerors (17+)! Be prepared to get that social water flowing 😛💦. Tickets are FREE, secure your tickets by registering. A ticket is required in order to enter the event!
Please note that at the entrance you will be asked to show your ID and either a negative test result or proof of vaccination.
❗ LIMITED SPOTS, FULL=FULL ❗
🤑 FREE ENTRANCE 🤑
🥮 FREE MOONCAKES 🥮
___________________
🗓️ Date: 29th of September
📍 Location: Café Beurs, Kruiskade 55, 3012 EE Rotterdam
⏰ Time: 18:00 – 00:00