Dit evenement is afgelopen.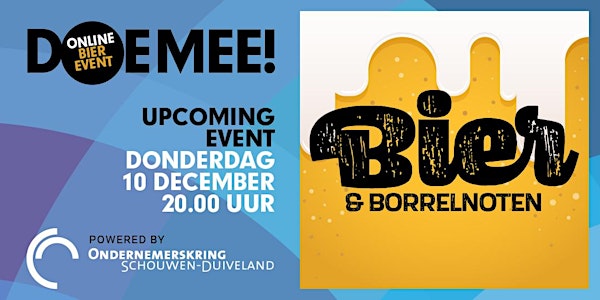 Bier en Borrelnoten
Online bierproeverij met OSD
Beleid voor refunds
Geen restituties
Over dit evenement
Zet je lekkere stoel klaar, de livestream aan en drankjes en hapjes binnen handbereik, want we gaan met zijn allen online bier proeven!
Vanuit de studio bij World of Drinks in Zierikzee verzorgen we voor jullie tijdens een Zoom meeting een bierproeverij. Met een bierista die je meer vertelt over de biertjes en de mogelijkheid om via de chat vragen te stellen.
Tot en met 28 november kun je online je bierpakketje bestellen en vanaf 4 december kun je deze afhalen bij World of Drinks. Een pakketje bevat 5 biertjes, een proefglas en borrelnootjes. Tip: ook leuk om weg te geven als Sinterklaascadeau aan je werknemers/collega's van het bedrijf dat OSD lid is.
Nu OSD live niet bij elkaar kan komen, hopen we jullie toch allemaal even te zien op 10 december ter afsluiting van dit bizarre jaar 2020. En dan snel op naar 2021!