Dit evenement is afgelopen.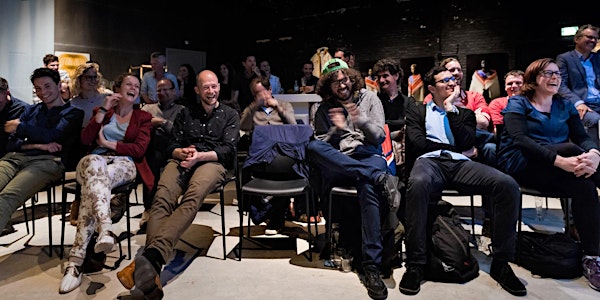 Bliksem & Donderdag #4 // A Thursday Enlightening Event
Waar en wanneer
Locatie
Kazerne 8 Paradijslaan 5611 KN Eindhoven Netherlands
Kaart en routebeschrijving
Beschrijving
Excited to announce edition #4!
BLIKSEM EN DONDERDAG - A THURSDAY ENLIGHTNING EVENT


* Inspiration * interaction * connection * acceleration * are the core values of this sparkling event!

VPRO MEDIALAB, BALTAN, HIGH TECH CAMPUS and TU/e have launched a new platform, where makers, creatives, tech-pioneers and thinkers can test their ideas for a wide, active audience: Bliksem en Donderdag.
The first two editions were very succesful. Every edition there were 8 fascinating pitches, both nights were sold out (90 seats) and wonderful matches were made between the pitchers and the audience. Because of the international setting, the night will be spoken in English.
JOIN US!
Be part of this! Join us for this creative night! Everyone is invited although we have 90 seats only! Save your free ticket via Eventbrite!
PITCH!
We also invite you to present your own wild idea! Do you have an original and innovatory idea and do you need help to make it happen? If you want to pitch send us quickly an email; medialab@vpro.nl
Bliksem en Donderdag is not a platform to search for funding though!
Bliksem en Donderdag is an 'international' stage where designs, concepts and ideas can be shared, tested and accelerated. The evenings will bring a number of short presentations by innovatory pionering makers, thinkers, doers and dreamers. There will be no passive audience. Everyone in the room will be motivated to respond and contribute. By explaining their own ideas and finding a match, participants will encourage each other to continue or challenge each other to improve.
An impression of the last Bliksem en Donderdagen:
https://e52.nl/bliksem-en-donderdag-voor-alle-doeners-denkers-en-dromers-in-de-stad/ http://www.vpro.nl/medialab/nieuws/Deel-de-vonk-.html
Dinner Option
Before we start the pitch night we would like to create the opportuniy to get to know each other better by sharing stories and food. More info on this soon!
-----------------------------------------------------------

Bliksem en Donderdag is inspired by the "boterhammensessies" ('sandwich' sessions) that took place in the 60s at the Philips Natlab at Strijp-S. During these sessions employees of the lab shared research and ideas. To discover, invent and innovate is in the DNA of Eindhoven. Countless designers, artists, IT specialists, students, and many labs, organizations and initiatives are constantly working on new products, concepts and ideas. It is our believe that an important key to acceleration lies in sharing your idea in an early stage, so you can test it and look out for partners.