Dit evenement is afgelopen.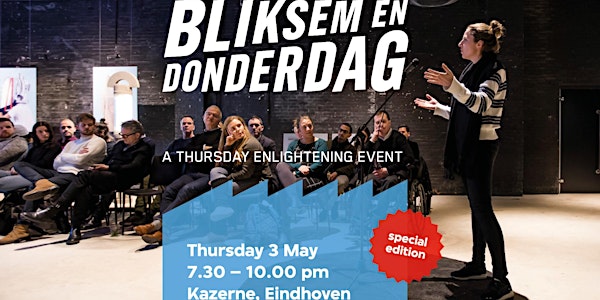 Bliksem en Donderdag #10 - The special edition
Waar en wanneer
Locatie
Kazerne Paradijslaan 8 5611 KN Eindhoven Netherlands
Kaart en routebeschrijving
Beschrijving
BLIKSEM EN DONDERDAG
A Thursday enlightening event
Bliksem en Donderdag, 'a Thursday enlightening event', is all about inspiration, interaction, connection and acceleration. This platform gives makers, thinkers, doers and dreamers a chance to share, test and accelerate their ideas. VPRO Medialab took the initiative and invited TU/e, Baltan Laboratories and High Tech Campus to work together on this new platform. The 10th edition will take place on Thursday May 3rd at De Kazerne.
Several pitchers present to the audience the dilemma that he or she has encountered during the development of their product or idea. Two experts give feedback on each pitch. Then it is the audience's turn: with advice, tips and experiences, those present help the pitchers further in their design or creation process.
Register here for free
Join in and register for this enlightening evening! Everyone is welcome, but we only have 90 places available. The evening if free of charge, including a drink voucher. Use this form to register. Official language is English.
Pitch your idea? Sign up!
Do you have an original or innovative idea but are looking for extra inspiration in the development of your concept, help with the technical issues or the right partners? Pitch your plan and make unexpected connections! Send a mail with your idea to medialab@vpro.nl.

Mini lecture by Alain Heureux
Bliksem en Donderdag focuses on a hands-on approach of innovative projects. For this special 10th edition we have invited Belgian innovation expert Alain Heureux to take a step back with us, and speak about the why of innovation. What will we gain as people and as a city? Alain is one of the members of the Creative Ring in Europe.

The Muppets
Two 'Muppets' are present for each edition. These experts listen from the sidelines just like Statler and Waldorf and give each pitcher feedback. This edition's Muppets:
- Elise Talgorn, senior strategic designer at Philips: the permanent flicker between her left and right brain stirs high-tech, trends and foresight to generate inventions for healthcare;
- Erik Sjouerman: by popular demand, we asked co-founder and creative director of creative agency HeyHeydeHaas back as one of our Muppets.
The pitchers
This edition's pitchers:
- Janina Pigaht's project 'Turn it off' is an impact campaign to question the ubiquity of wireless networks and offers tools to escape them;
- Kuang-Yi Ku's Tiger Penis project proposes artificial animal parts to use in traditional Chinese medicine to prevent putting some animals, like tigers, in danger;
- Danielle Roberts wil present the Meditation Lab Experimenter Kit. This toolkit helps you learn more about how your environment can have a positive effect on your meditations quality.
- Bart Brouwers from Eindhoven based news platform E52 will be looking for a network and specific contacts in the ecosystem of technology and innovation. to expand to Munich with M52.