Dit evenement is afgelopen.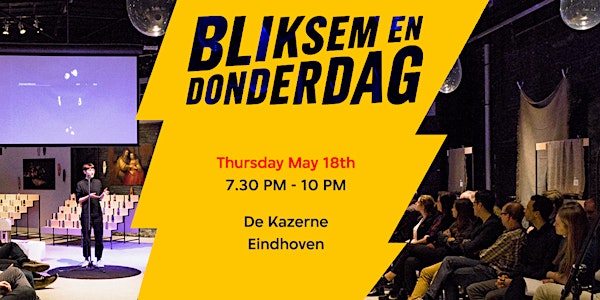 Bliksem en Donderdag #6 - A Thursday enlightening event
Waar en wanneer
Datum en tijd
do. 18 mei 2017 19:30 - 22:00 CEST
Locatie
Kazerne 8 Paradijslaan 5611 KN Eindhoven Netherlands
Beschrijving
BLIKSEM EN DONDERDAG
A Thursday enlightening event
Bliksem en Donderdag, 'a Thursday enlightening event', is all about inspiration, interaction, connection and acceleration. This new platform gives makers, thinkers, doers and dreamers a chance to share, test and accelerate their ideas. VPRO Medialab took the initiative and invited TU/e, Baltan Laboratories and High Tech Campus to work together on this new platform. The 6th edition will take place on Thursday May 18th. For more information, visit our website.
Several pitchers present to the audience the dilemma that he or she has encountered during the development of their product or idea. Two experts give feedback on each pitch. Then it is the audience's turn: with advice, tips for interesting connections and experiences, those present help the pitchers further in their design or creation process.
Register here for free
Join in and register for this enlightening evening! Everyone is welcome, but we only have 90 places available. The evening if free of charge, including a drink voucher. Use this form to register. Official language is English.
Pitch your idea? Sign up!
Do you have an original or innovative idea but are looking for extra inspiration in the development of your concept, help with the technical issues or the right partners? Pitch your plan and make unexpected connections! Send a mail with your idea to medialab@vpro.nl.
The Muppets
Two 'Muppets' are present for each edition. Two experts from a certain discipline such as technology, design, media, etc. listen from the sidelines just like Statler and Waldorf from The Muppet Show, and they give each pitcher feedback or pose a critical question. this editions Muppets are:
- Joy Arpots, who is artistic scout at Brabant C Fund. In the past he has been artistic director for various venues like Doornroosje and Koninklijk Theater Carré, and was counselor of various cultural organizations and member of various cultural advisory committees like Raad voor Cultuur.
- Marleen Hartjes is aconnetor between art and people. She is editor in chief of We Are Public Brabant and coordinator of the special Guest program of the Van Abbemuseum. She also works for Rijksakademie van beeldende kunsten, Unfair Amsterdam, HKU en Museum De Pont.


The pitchers
Join us in De Kazerne and help the pitchers below accelerate their ideas:
- Wendy Andreu has devised a system for producing water-proof fabric called Regen and is looking for advice for future plans of her products;
- Jurian Strik is founder of Moda, a museum for digital art that uses media rooms as exhibition spaces. He is looking for inspiration to professionalize his project and to involve more technical expertise.
- Together with a group of TU/e students, Michiel Derikx is designing a smart home that is energetically self-sufficient to participate in the Solar Decathlon Middle East, and looking for expertise on how to implement innovative ideas in the design.
- Sandra Bosch came up with the concept 'Literally Eindhoven', a series of historical children's novels, taking place in the old buildings of Eindhoven. She is looking for advice for a businessmodel.