Dit evenement is afgelopen.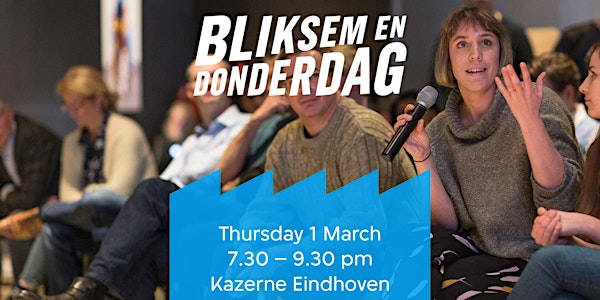 Bliksem en Donderdag #9 - A Thursday enlightening event
Waar en wanneer
Locatie
Kazerne Paradijslaan 8 5611 KN Eindhoven Netherlands
Kaart en routebeschrijving
Beschrijving
BLIKSEM EN DONDERDAG
A Thursday enlightening event
Bliksem en Donderdag, 'a Thursday enlightening event', is all about inspiration, interaction, connection and acceleration. This platform gives makers, thinkers, doers and dreamers a chance to share, test and accelerate their ideas. VPRO Medialab took the initiative and invited TU/e, Baltan Laboratories and High Tech Campus to work together on this new platform. The 9th edition will take place on Thursday March 1st at De Kazerne.
Several pitchers present to the audience the dilemma that he or she has encountered during the development of their product or idea. Two experts give feedback on each pitch. Then it is the audience's turn: with advice, tips and experiences, those present help the pitchers further in their design or creation process.
Register here for free
Join in and register for this enlightening evening! Everyone is welcome, but we only have 90 places available. The evening if free of charge, including a drink voucher. Use this form to register. Official language is English.
Pitch your idea? Sign up!
Do you have an original or innovative idea but are looking for extra inspiration in the development of your concept, help with the technical issues or the right partners? Pitch your plan and make unexpected connections! Send a mail with your idea to medialab@vpro.nl.

The Muppets
Two 'Muppets' are present for each edition. These experts listen from the sidelines just like Statler and Waldorf and give each pitcher feedback. This edition's Muppets are:
- Eefje op den Buysch: managing director at Robot Love and previously worked as founder and lecturer of the Transmedia Storytelling Lab at the Fontys Academy for Creative Industries in Tilburg;
- Lucas Maassen: works as an independent conceptual designer and teaches at the Social Design Master program at the Design Academy Eindhoven and at the Academy of Art Communication and Design in Tilburg.

The Pitchers
This editions pitchers are:
- Norbert Heijl: presents Verdien je Ticket: a project that helps vulnerable juveniles to get a job that fits their personal goals at cultural organizations;
- Bernhard Lenger: will pitch the foundation We Are Human Rights: a collaboration between designers and human right defenders to create a better environment;
- Siyu Wang: developed the device PLOW, which measures and visualizes breathing of dancers, poppers, to help them improve their timing;
- Ingmar Nieuweboer: will present 'The Office Jungle', a radical new office environment, attempting to solve people's growing physical inactivity;
- Jochem Timmers: will explain the Findur-app, which lets you browse for clothes in offline stores nearby, checks their inventory and gives you directions to the nearest shop.
- Hans Vullers: created a windwill that uses the drag of the wind instead of the lift, and generates durable enrgy.

For more information, visit: http://bit.ly/BliksemenDonderdag9