Meerdere data
Bomberbot/ Coderise Bootcamp |Roblox Game Development| 10-13 y.o| 5 days
Evenementdetails
Restitutiebeleid
Neem contact op met de organisator om een restitutie aan te vragen.
Eventbrite-kosten zijn niet restitueerbaar.
Beschrijving van het evenement
Do you play Roblox/have you heard of it and want to take it to the next level? Have fun while you learn the behind of this popular game!
Over dit evenement
Now with 20% Early Bird discount - limited places available!
In this popular camp, students will create their own games in Roblox!
Students will learn both the basics of 3D game development and fundamental programming concepts using the Lua programming language. This camp is designed for beginner to intermediate students who are interested in both programming and game development.
Our trainers are experts in programming, building games, and teaching young people, so you learn from the best.
The workshops are fun, educational, and practical!
Prerequisites
-Windows or MacOS Laptop
-Roblox Studio
-Active Roblox account
- Coder editor plugin installation
Roblox studio can be downloaded for free. For more details on the requirements, please click here
To download Roblox studio please click here
For the coder editor plugin installation please follow these instructions
Who can participate?
This course is suitable for anyone aged 10-13 who wants to learn the behind of Roblox game. Are you a little older or younger? Please contact us at hello@bomberbot.com or 020-3053826- to see if the course matches your experience.
The course is suitable for beginners with no experience, but also offers a challenge if you do have some experience. For example, if you have already gained some experience in Scratch, or have participated in other coding camps, then this course is also suitable for you! When registering, we will ask you a number of questions about your prior knowledge, to get a good idea of ​​the levels in the group.
How does the remote course work?
The course takes place online from Monday through Friday from 1 p.m. to 4 p.m. So it doesn't matter where you live! All you need is a computer, laptop , or Chromebook and a good internet connection. The trainers give interactive workshops and will help you with your own game in smaller, breakout rooms. In addition, we start every week with an energizer, to get to know each other better. And of course we take breaks in between.
On Friday there will be an online demo where you can also invite family or friends so that they can see online what we have done during the course!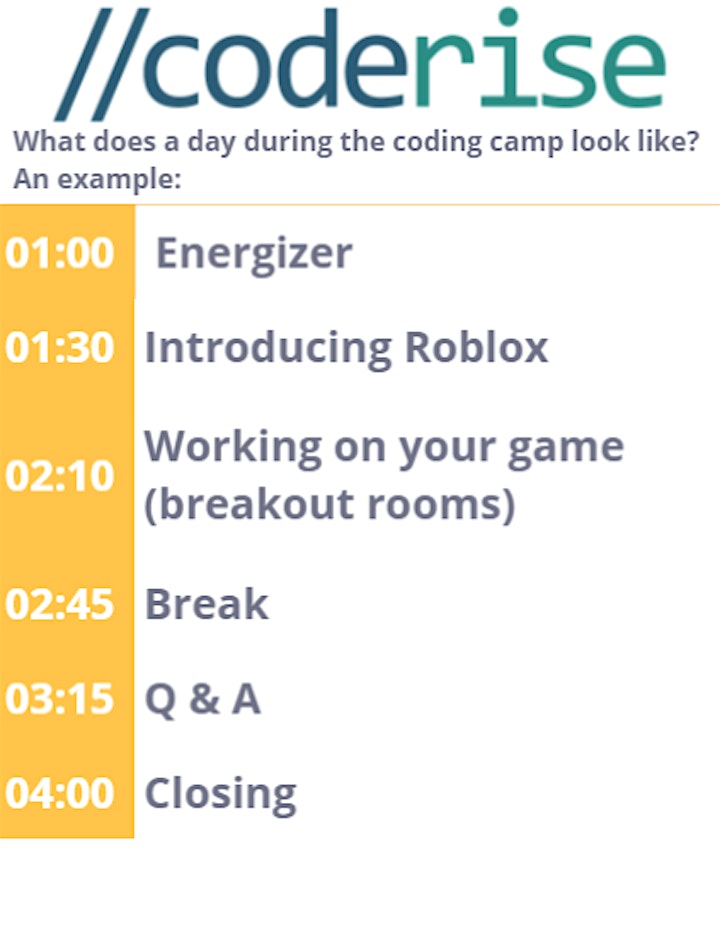 And after the course?
After the course, you go 'home' with your own designed game. You are able to design your own games. You can think about goals, design, interaction, and user experience in your game, among other things. Furthermore, you will of course also receive a certificate. If you want to continue learning to program, after the course you will be ready to continue with a textual programming language such as JavaScript or Python.
Dates
The course takes place during the summer break from July 26th - 30th, 1:00 PM to 4:00 PM.
Locatie
Restitutiebeleid
Neem contact op met de organisator om een restitutie aan te vragen.
Eventbrite-kosten zijn niet restitueerbaar.
Organisator van Bomberbot/ Coderise Bootcamp |Roblox Game Development| 10-13 y.o| 5 days
We teach basic programming skills by learning girls and boys to design and develop online games with our visual coding tool, Bomberbot Create. We have six years of experience in organizing events and programs. Parents and kids rate our events with a 9.1/10 on average.