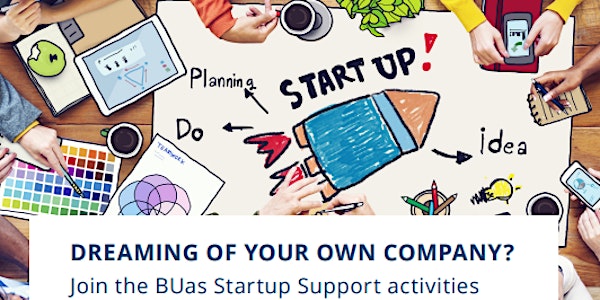 BUas Startup Support Kick-off
BUas Startup Support Kick-off
Waar en wanneer
Locatie
Breda University of Applied Sciences 2 Monseigneur Hopmansstraat 4817 JS Breda Netherlands
Kaart en routebeschrijving
Over dit evenement
Do you dream of having your own business, or maybe you have already started your own business, or you have an idea? BUas Startup Support (BUSS) can help you grow.
BUas Startup Support Kick-off
On September 29 we organize a kick-off event where we will tell you everything about BUas Startup Support. BUas Startup Support has, for example, coaches who can help you with your questions about entrepreneurship. But we also organize network events and company visits during the year, which you can join. Or use a workplace at Innovation Square. And much more. We will tell you all about it.
Key note
We also invited Thibaud van der Steen, social entrepreur from Breda Maakt Mij Blij to share his entrepreneurial story with you.
For who
Everyone can join the kick-off; students from all domains, from all years. Did the kick-off made you enthusiastic to join BUas Startup Support? We will hand out a schedule where you can sign up for an intake in the week of 10-14 October.
Planning
15.00 Walk in at the Innovation Square
15.30 – 16.30 Kick-off BUas Startup Support (Innovation Square)
16.30 - 17.30 Key note Thibaud van der Steen, Breda Maakt Mij Blij (Fe1.016)
17.30 – 18.30 Network drinks (Innovation Square)
Questions?
Startupsupport@buas.nl, or walk by our office Fe0.025