Locatie
Capital C
4 Weesperplein
1018 XA Amsterdam
Netherlands
Restitutiebeleid
Restituties tot 30 dagen voor evenement
Eventbrite-kosten zijn niet restitueerbaar.
Beschrijving
EXTENDED DEADLINE: Make sure you get a ticket before 18th September 23:59.
Don't miss your chance to connect with partners that will help scale your business!
It's that time of the year again. Capital Tour XXL is thrilled to be back with the 7th edition on Monday September 23rd. This year we'll host a special Capital Tour by Night edition, as part of Amsterdam Capital House (previously known as Amsterdam Capital Week)!
Almost all startup matchmaking events are the same - poor overview of business opportunities, irrelevant introductions and stressful atmosphere that is not really helping you to build those meaningful connections you're looking for. In the process of taking 700+ startup founders to over 100+ HQs or investors in the cities of Amsterdam and Rotterdam since 2015, we've learned a couple of things that are helping us redefine this space.
During Capital Tour by Night, founders and investors will speed date to discover potential funding opportunities while exploring the Amsterdam bar scene. Like the previous edition, investors and startup founders will co-create their own personalized 'Tour de Funding'. This will help cutting down on BS, maximizing quality lead creation while making the whole experience more fun.
You will have the opportunity to send a personal meeting request to the investor that you can find potential fit through NetworkTables (and vice-versa). Once the investors accept your meeting request (s), the meeting will take place at one of the bars in Amsterdam during the event.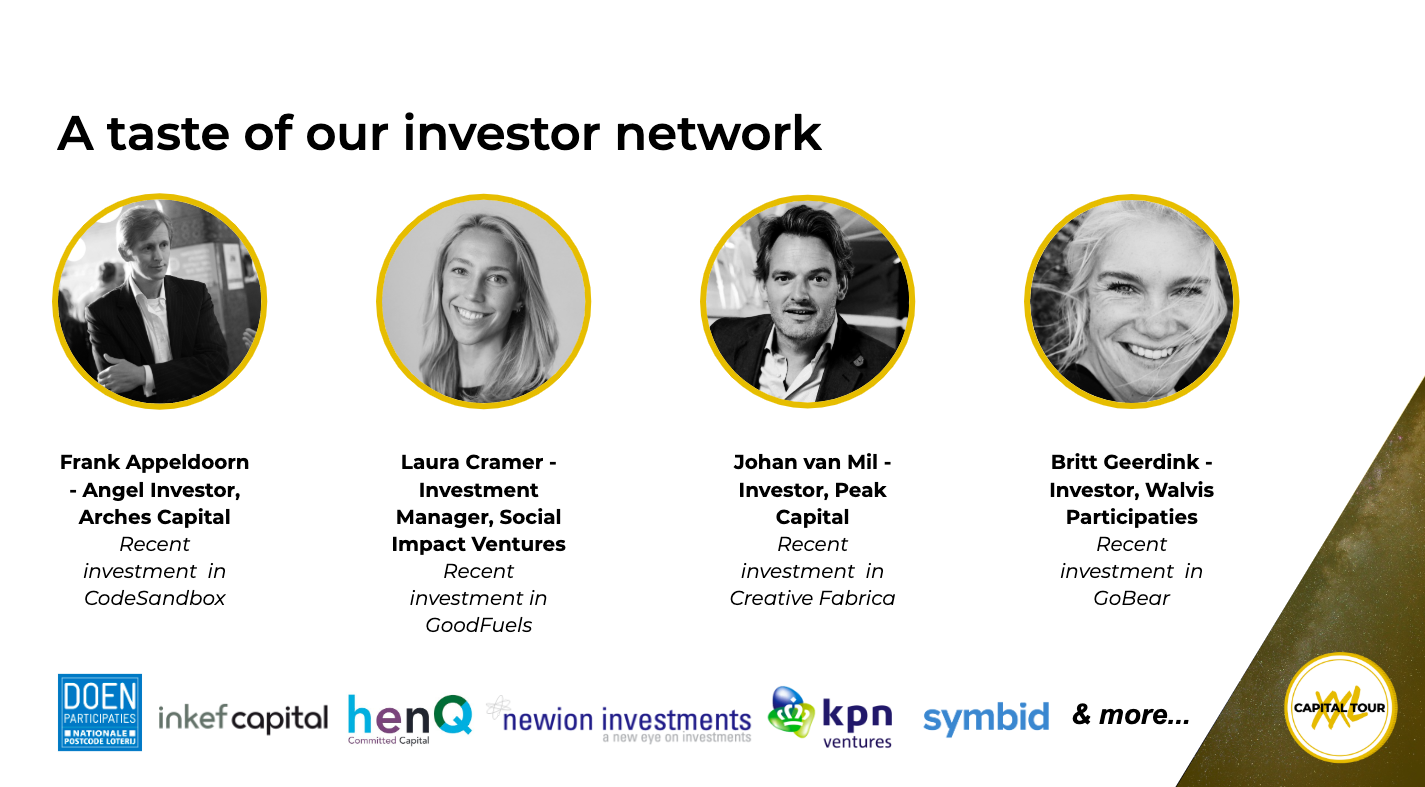 You can pack several months' worth of meetings into one day. Read more about the opportunities to connect with investors HERE .
SO, are you ready to ..
Make beneficial connections with leading investors?

Have 1-on-1 meetings with Angels?

Learn how to approach investors and what are they looking for?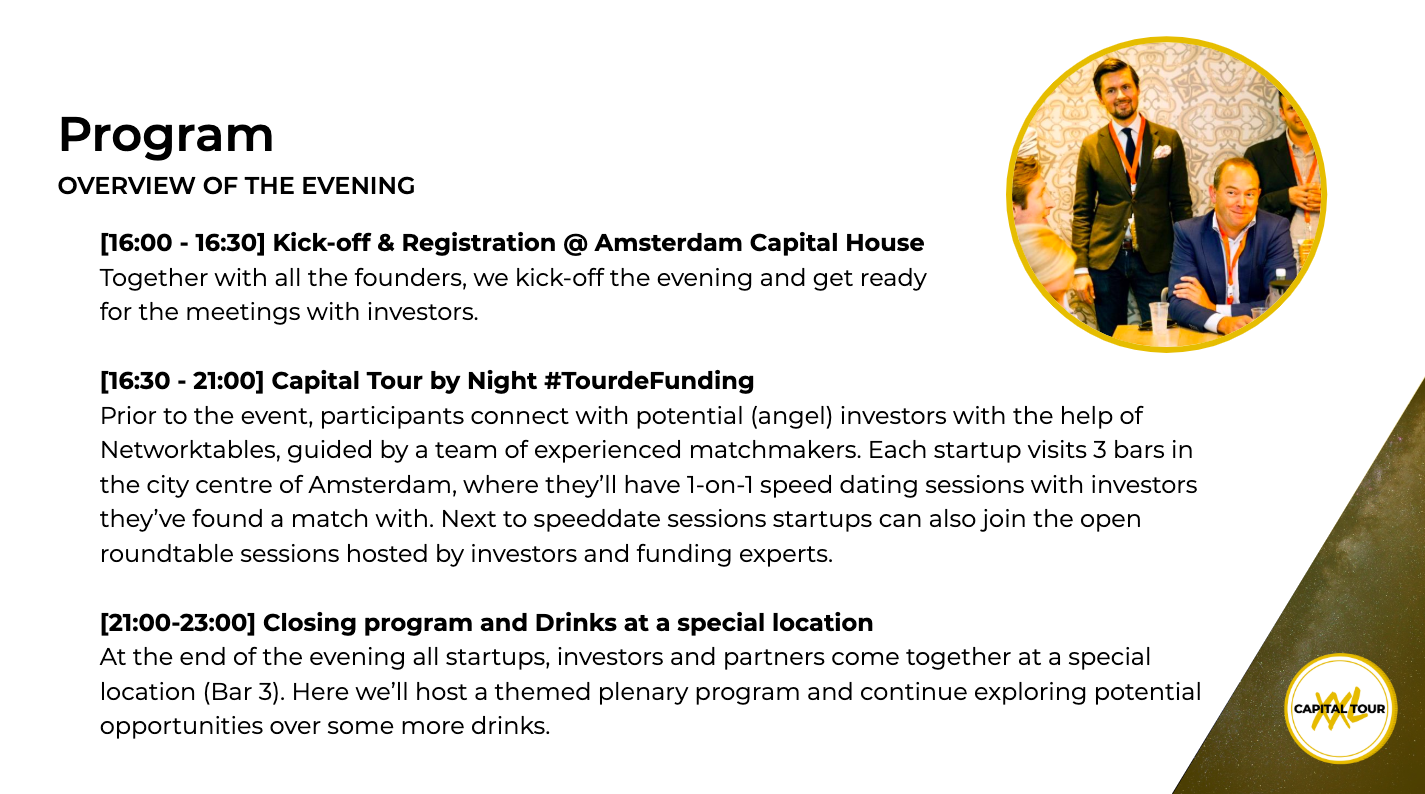 Program of the day
15:30 - 16:00 Registration @Amsterdam Capital House, Weesperplein 4, Amsterdam (Only for startup and scaleup founders)

16:00 - 16:15 Kickoff @ Amsterdam Capital House, Weesperplein 4, Amsterdam (Only for startup and scaleup founders)

16:15 - 16:30 Photo moment outside Amsterdam Capital House with our Ambassador Jacqueline van den Ende

16:30 - 17:00 Move to one of the 3 bars

17:00 - 18:00 Round 1: Speed ​​Date Sessions at

18:00 - 18:30 Break

18:30 - 19:30 Round 2: Speed ​​Date Sessions at

19:30 - 20:15 Move to Waalse Kerk (Walenpleintje 157-159 Amsterdam)

20:15 - 20:45 Confession Stories Panel - Speakers Jacqueline van den Ende, May Ling Tan, and Samir Saberi share their startup confessions, moderated by Linda Vermaat.

21:00 - 22:15 Round 3: Speed ​​Date Sessions at De Waalse Kerk

22:15 - 23:00 Networking Drinks: (Including cocktails from Chivas Ventures and Beer / Wine from ScaleUpNation)
Become a part of our growing community and hop on your bike with us! To learn more about the event, visit Capital Tour XXL - www.capitaltourxxl.com
Have questions?
Write to Aditya Putta, Program Manager ( aditya@capitaltourxxl.com )
Important note: If we think there are not enough matches for you, we'll give you a heads up and refund your tickets.
---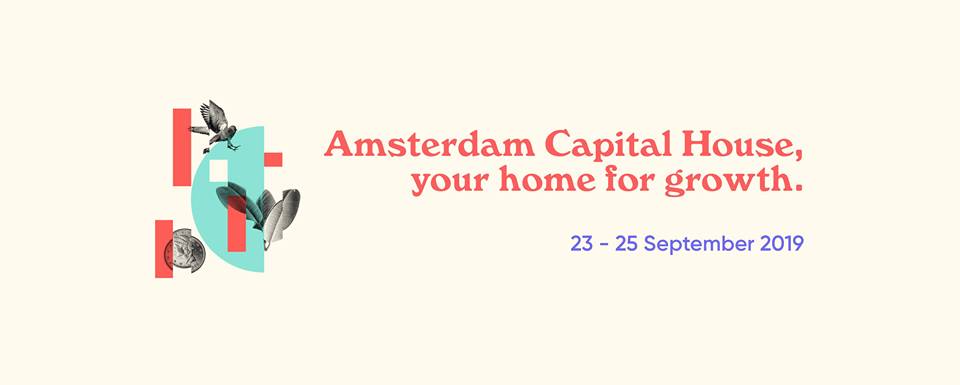 On September 23-25th , Amsterdam Capital House brings together entrepreneurs, investors, corporate innovators and community builders for 50+ interactive sessions, workshops, and network opportunities around Capital. As we're proudly part of the event, we offer founders a special discount (20%) to join the House. Join us for the full experience, get your key (aka ticket) now!
Interested in both Capital House and Capital Tour, combi ticket that gives you access to both! # ACH19 # CTbN ?