Restitutiebeleid
Geen restituties
Capital Tour Online: The Netherlands' Biggest Matchmaking Event
Over dit evenement
Get ready for The Netherlands' biggest matchmaking event to date - on June 30th!
A 100% online, live and interactive event to help entrepreneurs find meaningful connections with potential investors.
How does Capital Tour look when we take our bikes and offices out of the equation?
➔ 100% Online Curated 1-on-1 Meetings
➔ Informal Roundtable Sessions
➔ Live Webinars & Funding Masterclasses
➔ Online Investor Lounge & Networking Roulette
~ RIDING THE WAVE OF CHANGE ~
TechLeap's recent findings show that 50% of the startups have lost significant revenue and expect to run out of money in the coming 3 months. Meanwhile, many investors are active especially with giving advice and still keeping open doors for funding opportunities. But how can both sides connect?
While we continue to work from home, we still face a challenge in growing our network & creating genuine connections.
We are dedicating our experience of connecting 850+ startup founders with over 150+ investors since 2015, finding new ways to informally connect online and continuing to demystify capital.
We plan to bridge this gap, introducing a full online program to support founders and investors in making meaningful (curated) connections. Bringing together a variety of investors from around the world (open to invest in Dutch startups) to help the next generation of startups live through these turbulent times.
~ SPECIAL CALL FOR TECH FOR GOOD ~
Social & impact startups are proving to be even more important in these times. Do you have a startup building solutions for COVID-19? We think that's great and would like to show you a bit of appreciation. That's why we offer a 25% discount on your ticket. Email aditya@capitaltourxxl.com for the discount code.
~ A TASTE OF OUR INVESTOR NETWORK ~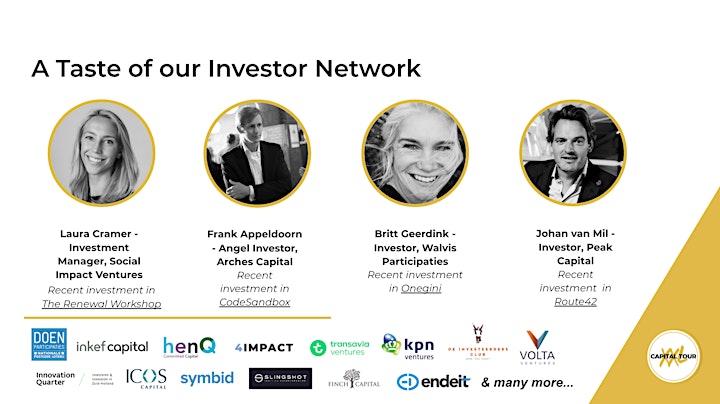 Pack several months' worth of meetings into one day, right from your own living room. Read more about the opportunities to connect with investors HERE.
~ STARTUPS & SCALE-UPS THAT JOINED BEFORE YOU ~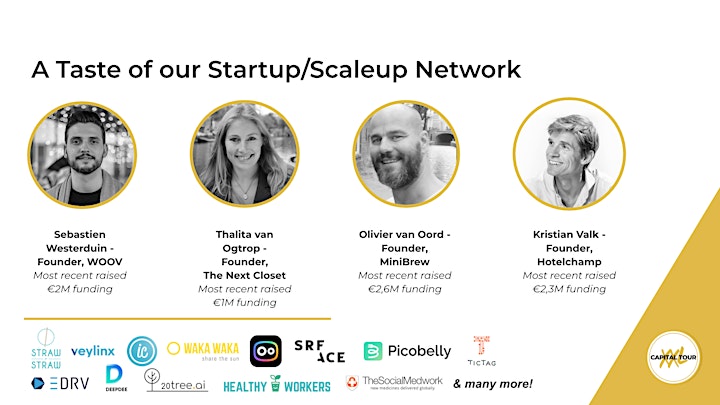 ~ WHO IS IT FOR? ~
Dutch startups and International startups who do or looking to do business in The Netherlands. Either you're raising some investment or just looking to warm up some investors for future rounds, we hope you can join us. Our investors are a broad variety - angels, VCs, Corporate and Governmental funds supporting a range of industries.
~ MATCHMAKING ~
We respect your privacy. That's why we'll use your personal data only to create a relevant Tour-de-Funding for you and find the right matches with investors. Based on your funding profile - you'll receive a questionnaire after you registered - our team will rate your investment readiness. You'll meet with investors or potential business partners 1:1, in small group settings, or learn about topics that are helpful in your future fundraising process. The more concrete info you provide us, the better we can do matchmaking. We'll only give you 1:1's if we think you're ready for it. You will also have the opportunity to send personal meeting requests to investors via NetworkTables. Once the investors accepts your request, the meeting will take place using a unique video call link.
~ PROGRAM ~
Tuesday, June 30, 2020 - Block your agenda's between 13:00-18:30!
SO, are you ready to ...
Make beneficial connections with leading investors?
Ride the wave of change and have 1-on-1 digital speed date sessions with investors?
Learn how to approach investors (digitally) and find out what are they looking for?
Become a part of our growing community and ride the World Wide Web to one investor to the next, right from your living room!
Have questions?
Write to us or visit https://capitaltourxxl.com for more info.
Email Aditya Putta (Program Director): aditya@capitaltourxxl.com or Simone Schoutens (Founder & Director): simone @capitaltourxxl.com