Meerdere data
Challenge Event Intelligent Lighting
Evenementdetails
Locatie
Light Assembly, Innovation Space
De Rondom
5612 AZ Eindhoven
Netherlands
Beschrijving van het evenement
Challenge Event Intelligent Lighting
Over dit evenement
Have you ever wondered what lighting can do? Do you want to experience what it is to work on exciting challenges in interdisciplinary teams? Find it out on the Challenge Event Intelligent Lighting organized by the Intelligent Lighting Institute together with TU/e innovation Space.
Two evenings will be organised in which students can experience working on real-life challenges. We will start the evening with free pizza, then move on to the challenges, and end the evening with a network drink. In total six different cases will be presented that together give a flavour of the broad range of possibilities of intelligent lighting.
1. Designing an intelligent system for crowd control and security in night life areas
Crowd control and security in night life areas is one of the top concerns of cities. They are looking for solutions to ensure safety by supporting guards in their jobs with technology to detect and locate incidents and de-escalate aggressive behaviour, as well as lighting up available escape routes to enable smooth evacuation of the square in case of calamity.
In this challenge you will design an interactive system that reports the occurrence and location of incidents to the control room, reacts with controllable light spots and supports different evacuation routes in case of calamities.
2. Smart lighting applications to increase (a feeling of) safety for road users
Municipalities have committed to the covenant of mayors to reduce energy consumption and CO2 emissions. For this reason, they are changing street lighting to LED, but they are also looking to make the lighting 'smart', e.g. by adapting to the intensity of traffic. This means that different scenarios can be created to deal with people passing-by, cycling or commuting and enable them to go from a to b in an efficient, comfortable and safe way. In this challenge you will explore the market possibilities for new value propositions for municipalities.
3. Lighting to improve health in office
More information on this case will follow soon.
4. LiFi for autonomous driving and smart mobility
LiFi is a light communication technology that enables a LED light to emit pulses of light that are undetectable to the human eye. It is similar to decoding Morse code, but then at high speed, enabling transmissions speeds to go over 100 Gbps – much faster than the world's fastest WiFi. One of the interesting applications could be communication in smart mobility, e.g. between autonomous driving vehicles and traffic systems. However, the smart mobility supply chain is quite complex with multiple car manufacturers working on autonomous vehicles, different manufacturers of components that are used in the vehicles, and other companies working on intelligent traffic systems. In this challenge you will work on an entry strategy for LiFi in this market.
5. Smart lighting applications to enhance leisure experiences in a city centre
Several cities have embarked on smart lighting that provides value beyond illumination. They have installed connected lighting systems that integrate the Internet of Things and software applications. The first applications include adaptation of the atmosphere in the city to events or seasons and smart parking applications. But there must be more possibilities for solutions that enhance the experience of visitors. Cities look for a regular refreshment of the experience to keep it interesting for visitors to return. In this challenge you will work on the creation of new value propositions for smart lighting in city centres.
6. Health and well-being of animals in the livestock sector
All living systems emit photons without any influence of external stressors or stimuli. Although this is not visible to the human eye, sensors have been developed that can measure these ultra-weak photon emissions. There are signs that these emissions are influenced by e.g. stress. What if we could design an intelligent system that measures the photon emission of animals in the livestock sector to identify their well-being and design lighting scenarios to increase their quality of life? In this challenge you will design the technical system to monitor and influence the well-being of animals.
Any dietary wishes? Mail them to m.c.d.dooij@student.tue.nl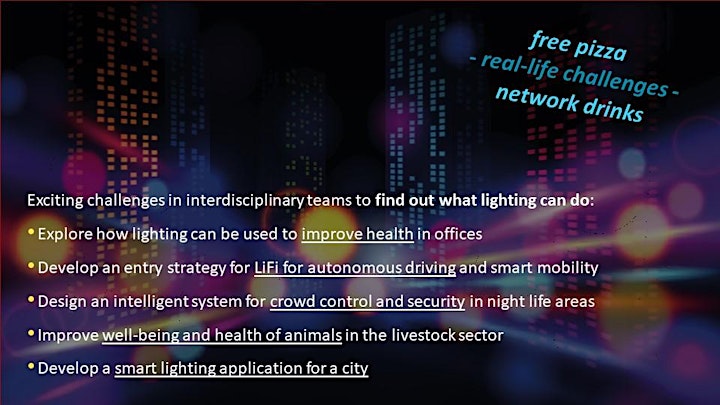 Locatie
Light Assembly, Innovation Space
De Rondom
5612 AZ Eindhoven
Netherlands