Dit evenement is afgelopen.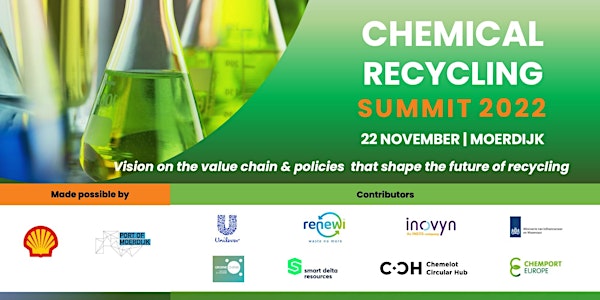 CHEMICALRECYCLINGSUMMIT 2022
Grasp your opportunity to explore the fast-growing sector & discover how chem. recycling is assisting the transition to a circular economy!
Door Stichting Circular Biobased Delta
Waar en wanneer
Datum en tijd
di. 22 nov. 2022 12:00 - 18:00 CET
Locatie
Restaurant Passant 11 Plaza 4782 SL Moerdijk Netherlands
Beleid voor refunds
Restituties tot 1 dag voor evenement
Eventbrite-kosten zijn niet restitueerbaar.
Over dit evenement
Europe wants to be climate-neutral, and that can only be achieved by investing fully in circularity. If we want to achieve impact, and we do, the chemical industry must also embrace circularity. Chemical recycling plays a growing role in this and that requires companies to take action now.
Discover the fast-growing sector and how chemical recycling is helping the transition to a circular economy in The Netherlands. Hear all about it at the Chemical Recycling Summit (CRS) on 22 November 2022 in Moerdijk. https://circularbiobaseddelta.nl/crs. Made possible by Shell, Port of Moerdijk and Circular Biobased Delta Foundation. Chemical Recycling is one of the focus themes of the Circular Biobased Delta Foundation, and the Summit builds on more than five inspiring events around this theme in the past period.
JOIN US
Learn about the latest market and technology trends with expert presentations that will impact your industry.
Identify new opportunities for partnership, investment, or product development.
Connect to influential players from throughout the complete supply chain.
Expand your sales contact network.
ATTENDEES
More than 35 different organisations already subscribed! Our attendees are a true representation of the supply chain. The participants are industry leaders and market professionals sharing their unparalleled views into chemical recycling business and policy.
TICKETS
Admission 75 EUR
Free of charge for members of Network Chemical Recycling and Cluster invites
Become a member and get your opportunity to pitch or exhibit
ABOUT CIRCULAR BIOBASED DELTA
Circular Biobased Delta was already at the forefront of chemical recycling around 2015, with the establishment of the Pyrolysis Experimentation Garden South Netherlands, together with Port of Moerdijk and Rewin. Since then, developments in the region have gained momentum: Shell is investing in pyrolysis technology to supply the company's crackers with bio-based naphtha within a few years, Neste and Ravago are planning the construction of a chemical recycling plant in Vlissingen and the start of the PyroChempark project including the Green Chemistry Campus in Bergen op Zoom.
Chemical Recycling is an umbrella term for a number of technologies in which a chemical process reduces plastics to the original building blocks of the material (polymers, oligomers (pyrolysis oil), monomers (e.g. styrene) and/or small molecules such as carbon monoxide and hydrogen). Four different techniques are often distinguished:
1. Solvolysis (dissolving, technically actually part of mechanical recycling)
2. Depolymerisation
3. Pyrolysis (cracking)
4. Gasification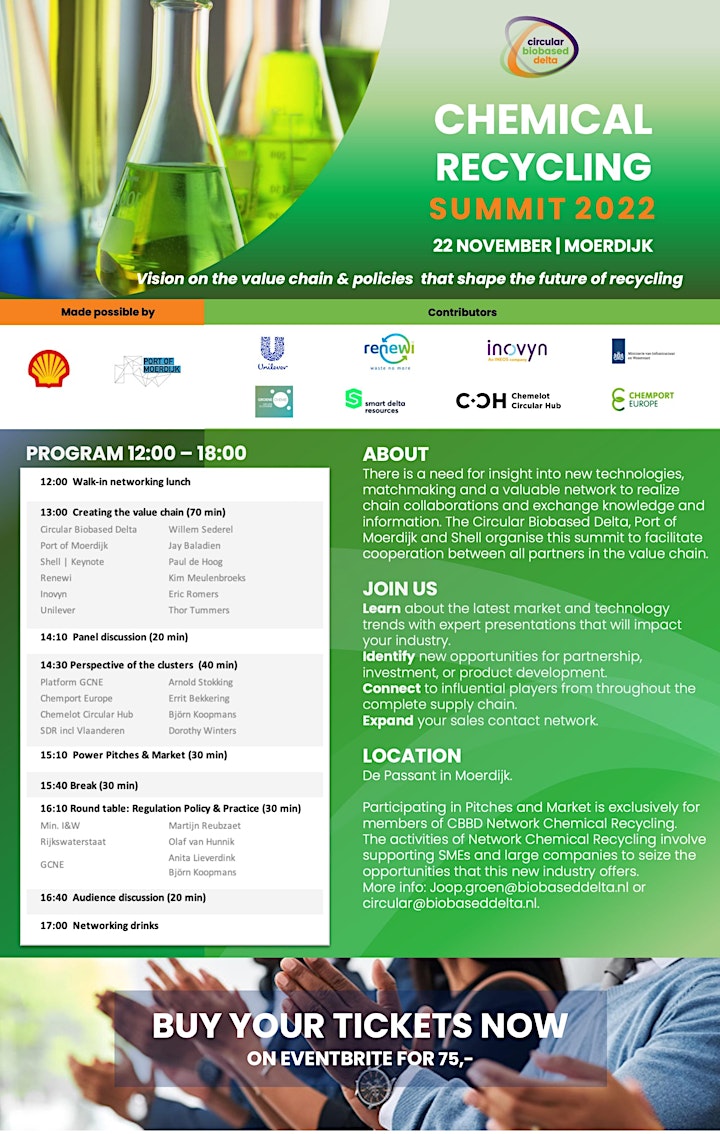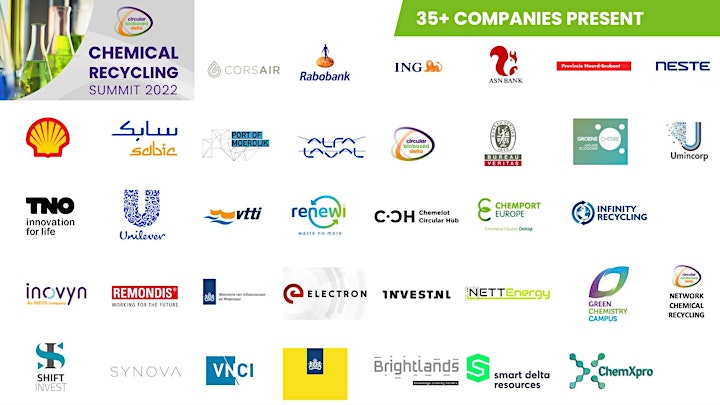 Over de organisator
Stichting Circular Biobased Delta versnelt de transitie richting een circulaire biobased economie door projecten te initiëren en bedrijven te inspireren en te ondersteunen richting vergroenen en verdienen.